Music
Master of Music (MMus)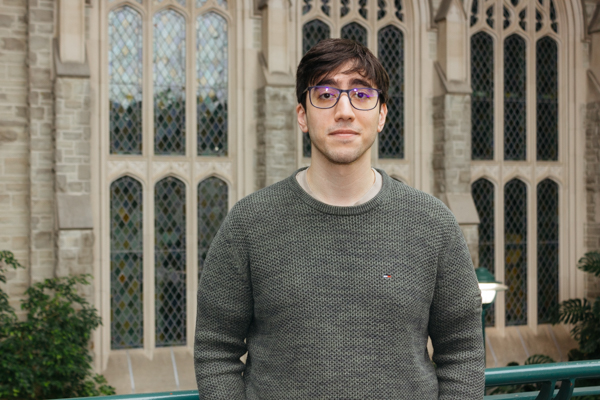 "Every detail of this program opened my perspective on being a professional musician, such as communicating with faculty members, making friends, and writing about music."
Describe your research.
My compositional thesis research was about listeners' perception of passing time by gradually changing from ambiguity to clarity and vice versa. The material in my music repeats on large and small levels, which provides a familiar space and rhythm for the listener. Changes in repeating material affect the experience of passing time, in which time seems to expand and contract. Because the change is gradual and unpredictable, listeners may feel suspended in time—until a sudden realization or unexpected continuation happens. This suspension is a transformational process that embodies the philosophical concept of "pure becoming."
Where's your favourite place on campus to work?
The electronic studios in the Don Wright Faculty of Music. I can access microphones, speakers, and other devices to make electronic music.
What is your "dream" career?
When we quote it as a "dream," we already know the reality differs. But still, I am working on becoming a professional sound designer.
What is it about your grad program that enables you to thrive?
One person can thrive in multiple disciplines and areas while experiencing this transformational time, like studying in a grad program. For example, I enhanced my communication skills and music-writing techniques.
Program Websites
Program Contact
Audrey Yardley-Jones
(
ayardley@uwo.ca
)
Graduate Program Assistant
Don Wright Faculty of Music
Western University
Talbot College, Room 216
London, Ontario N6A 3K7
t.
519-661-2111 ext. 85354
The Master of Music (MMus) degree is available in three fields: MMus in Composition; MMus in Literature and Performance; and MMus in Music Education.
Program Length
5 Terms (Full-time study)
Program Design
Full-time study or part-time study
Thesis-based or course-based
Funding Information
Applicants are encouraged to apply for the following scholarships (if eligible):
Tuition and Fees
Tuition and fee schedules (per term) are posted on the Office of the Registrar's website at http://www.registrar.uwo.ca/student_finances/fees_refunds/fee_schedules.html
Admission Requirements
Detailed admission requirements by program:
English Language Proficiency
Applicants whose first language is not English must furnish evidence of their proficiency in the use of the English language:
Application Deadline
January 15 - Acceptance notification in early March.
Applications received after the deadline are contingent on space availability and funding.
Fields of Research
Composition
Music Education
Performance