Neuroscience
Master of Science (MSc)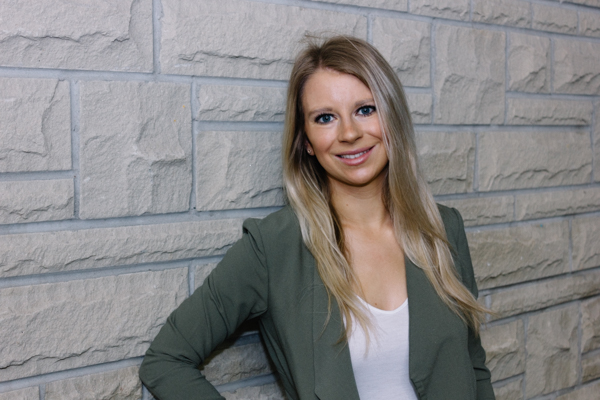 "I knew that the innovative environment and wealth of expertise at Western University's Brain and Mind Institute offered the ideal setting to pursue my graduate degree. I was also drawn to the flexible course schedules offered by Western's graduate program, which in turn allowed students to maintain a core focus on research."
Supervisor: Dr. Penny MacDonald
Why did you come to Western for your graduate degree?
My decision to stay at Western for my graduate studies was an easy one. I had completed my Honor's thesis project working alongside Dr. Mel Goodale at the Brain and Mind Institute. This positive experience not only solidified my interest in the neuroscience field, but also my trust in Western's training facilities. Furthermore, I was attracted to the fact that Western provides the option for students to directly 'roll over' into a PhD degree.
What's your favourite book?
You Only Live Once: Lonely Planet Guide for the Explorer in All of Us
Describe your research in 100 words or less.
My research is primarily focused on exploring visuomotor control in patients with Parkinson's disease. In particular, I am interested in elucidating whether the ability to use visual information to continuously and automatically modify motor responses is impaired in this disease. Ultimately, our aim is to better understand automaticity and motor functioning in Parkinson's patients and explore how common Parkinson's-related pharmacological therapies may alter performance.
How do you de-stress?
Yoga. Or search 'Google Flights' to plan out my next adventure.
What is it about your grad program that enables you to thrive and be successful?
I think that the people you surround yourself with during your graduate studies is critical to success. I have been able to establish some great friendships with other students in my program. This circle of friends has always been there for one another whether it is to listen to practice talks, edit proposals, or just to provide a laugh during stressful times.
I also think that having a strong relationship with your supervisor is important in order to thrive in your graduate work. Their mentorship is invaluable and they can offer a lot of advice not only about your current work, but also on how to be successful following graduate school.
What are you most passionate about?
As cliché as it may be, I think that I am most passionate about making a difference. Whether that be through my research and unearthing important clinical answers or by working directly with those in need abroad - I want to be able to use the skills that I have harnessed and apply them in a way that can help others.
Program Websites
Program Contact
Susan Simpson
(
neuroscience@uwo.ca
)
Program Coordinator
Robarts Research Institute
Western University
Robarts Rm 3203
London, Ontario N6A 5K8
t.
519-661-2111 ext. 84039
The Master of Science program provides an interdisciplinary and research intensive learning experience in Neuroscience. Students develop with their supervisor an individual research project which is usually completed within two years of registration. Critical thinking and a broad overview of neuroscience research is also emphasized through the Neuroscience 9500 and 9510/9511 courses.
Program Length
Program Design
Full-time study
Thesis-based
Funding Information
Applicants are encouraged to apply for the following scholarships (if eligible):
Tuition and Fees
Tuition and fee schedules (per term) are posted on the Office of the Registrar's website at http://www.registrar.uwo.ca/student_finances/fees_refunds/fee_schedules.html
Admission Requirements
Honours Bachelor degree (or equivalent) from an accredited institution.
At least an A (80%) over the final two years is recommended; this is equivalent to a high second class standing at some universities.
Additional Requirements
It is highly recommended that all students complete a course in mathematics and courses in biological and natural sciences at the university level.
Courses in biological sciences at second year levels will be useful for successful completion of the required Principles of Neuroscience course.
English Language Proficiency
Applicants whose first language is not English must furnish evidence of their proficiency in the use of the English language:
Application Deadline
Fall 2024 Entry: We strongly encourage applicants to apply by January 19.