Neuroscience
Doctor of Philosophy (PhD)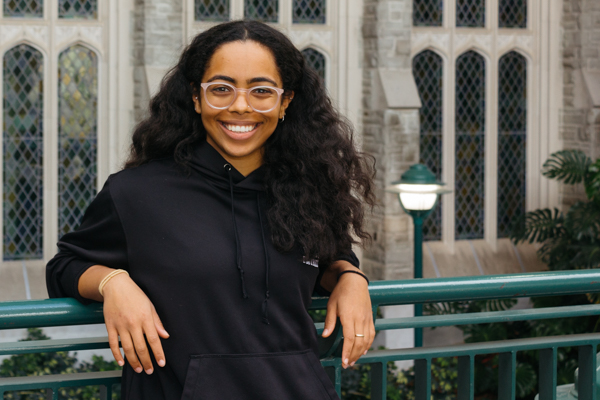 "The scientific process is so invigorating to me, and Western has the support systems you need to build your research career (mentors, resources, and community groups)."
Describe your research.
My research seeks to investigate the impact of diet and metabolism on cognition in obesity and whether exercise and anti-diabetic drugs can boost neuroplasticity (i.e. neural stem cell growth) and restore cognition in pre-clinical rodent models and clinical populations.
Do you serve on any volunteer committees?
Yes, I sat on Schulich Anti-Racism retreat committee, Strategic Planning committee, and BrainsCAN EDI Committee. I currently am a member of CREDIT.
Have you worked as a teaching assistant?
Yes, I have worked as a TA throughout my graduate degree specifically with my mentor Dr. Nicole Campbell. Her mentorship has allowed me to build communication skills and critical thinking skills that I transfer into my doctoral work. My passion in education and support from Dr. Campbell has resulted in a $55,000 grant to build an EDI-D toolkit for the biomedical sciences, set to launch in April.
What's the best advice you could give to someone considering applying to your graduate program?
Understand that you may not know where you will end up or your future career direction once starting a graduate program. Graduate school is a place of self-discovery and personal growth. It will help you find what you are passionate about, as well as test your persistence and stamina. Make sure to find a support network in and outside of your graduate environment, engage with others beyond your research work, and do not let your research define you.
Program Websites
Program Contact
Susan Simpson
(
neuroscience@uwo.ca
)
Program Coordinator
Robarts Research Institute
Western University
Robarts Rm 3203
London, Ontario N6A 5K8
t.
519-661-2111 ext. 84039
The PhD in Neuroscience is a research intensive program that emphasizes the development of individual scholarship and excellence through the collaborative interactions within this interdisciplinary program. Students in the program experience a very wide exposure to all aspects of neuroscience research from cellular molecular to cognitive neuroscience. Student with an MSc usually complete this program within 4 years. Direct entry into the program by students with a BSc is possible for outstanding candidates.


The Own Your Future doctoral professional development program will help you become a career-ready graduate with the skills necessary to excel in your studies and achieve your future goals. By participating in the program, you will assess your own strengths and opportunities for growth, choose what skills you want to enhance during your time at Western, and learn how to articulate the skills you gained in your degree to optimize your future career opportunities. To learn more, visit www.uwo.ca/ownyourfuture.
Program Length
Program Design
Full-time study
Thesis-based
Funding Information
Applicants are encouraged to apply for the following scholarships (if eligible):
Tuition and Fees
Tuition and fee schedules (per term) are posted on the Office of the Registrar's website at http://www.registrar.uwo.ca/student_finances/fees_refunds/fee_schedules.html
Admission Requirements
Honors or Masters degree in Neuroscience or in a related field with a strong research component, or an MD, DDS or DVS degree with some specialization in Neuroscience
At least an A (80%) over the final two years is recommended; this is equivalent to a high second class standing at some universities.
Direct Entry PhD applicants will require a minimum 85% over the final two years.
Additional Requirements
At present, only candidates with a degree from recognized universities are admitted directly into the PhD program.  All others interested in the PhD program are first admitted to the MSc program. They may transfer to the PhD program within the first 18 months, provided that their progress is excellent and that they have a project that could be developed into a PhD thesis.
English Language Proficiency
Applicants whose first language is not English must furnish evidence of their proficiency in the use of the English language:
Application Deadline
Fall 2024 Entry: We strongly encourage applicants to apply by January 19.