Nursing
Doctor of Philosophy (PhD)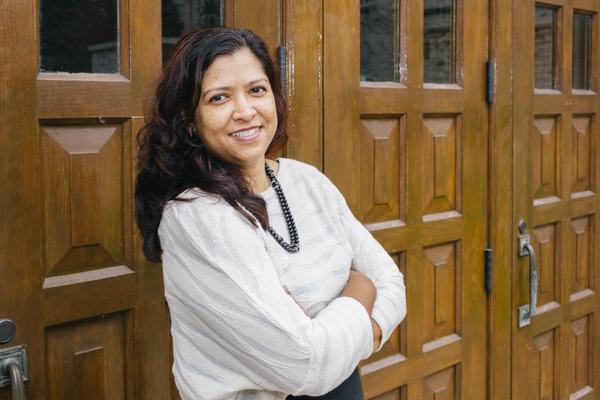 "A PhD program is more than just formal education, it is about preparation to be a leader and it's also about personal growth."
Supervisor: Marilyn K. Evans
What is it about your grad program that enables you to thrive and be successful?
Amazingly, despite all the expertise and brilliance available at Western, what makes the difference is the kindness of the people here. The open friendliness and helpfulness create an atmosphere where it is safe to be vulnerable, and say you don't know something when you don't know it, and to ask for help when you need it.
What is your "dream" career?
At this point in my life, I care more about creating social change than following a defined career path. Earlier this year I had the great fortune of speaking with Dr. Nancy Edwards, and I asked her what role I needed to be in order to make the most change, and she told me that opportunity to create change can come from many places, the key thing is to be ready to seize the opportunity.
Describe your research.
I am concerned that efforts aimed at having health professionals use research evidence to improve care are ineffective because of a fundamental issue – there is not an adequate understanding of how health professionals use knowledge of all types, including research evidence, to achieve the outcomes they want. My research aims to describe how health professionals use knowledge in practice, so that researchers can more effectively design ways of helping practitioners make the most of available research evidence.
Do you engage in volunteer activities?
At the moment, I am a volunteer educator for a public health program that provides services for mothers and fathers who might be concerned about their perinatal mental health. I have been doing this for the last 6 years.
Program Websites
Program Contact
Shayna McKay
(
gradnurs@uwo.ca
)
Graduate Program Assistant
FIMS & Nursing Building
Western University
Room 3308
London, Ontario N6A 5C1
t.
519-661-2111 x83409
The Doctor of Philosophy (PhD) program prepares nurse scientists to conduct research and to assume major roles in the development, evaluation and dissemination of knowledge about issues of interest to Nursing. Acculturated into an academic environment that embodies scholarship, graduates of this program are well-prepared for careers as researchers and educators in both academic and health care settings.

Students benefit from small classes and excellent access to world-class professors with varied expertise. Nurtured by close mentoring relationships with faculty advisors, students in the doctoral program engage early and continuously in research under the supervision of an advisory committee.

The program emphasizes openness to, and respect for, multiple ways of knowing, living, and being healthy, and valuing of varied philosophical, epistemological, and theoretical viewpoints. The program is closely linked with the research programs of faculty members.


The Own Your Future doctoral professional development program will help you become a career-ready graduate with the skills necessary to excel in your studies and achieve your future goals. By participating in the program, you will assess your own strengths and opportunities for growth, choose what skills you want to enhance during your time at Western, and learn how to articulate the skills you gained in your degree to optimize your future career opportunities. To learn more, visit www.uwo.ca/ownyourfuture.
Program Length
Program Design
Full-time study
Thesis-based
Funding Information
Applicants are encouraged to apply for the following scholarships (if eligible):
Tuition and Fees
Tuition and fee schedules (per term) are posted on the Office of the Registrar's website at http://www.registrar.uwo.ca/student_finances/fees_refunds/fee_schedules.html
Admission Requirements
Both general and program-specific requirements must be met to be considered for admission. All programs have one intake annually, beginning in September.
Completion of a bachelor's degree in nursing from a program that is accredited by the Canadian Association of Schools of Nursing (CASN) or approved by an appropriate provincial nursing organization.
GPA of 78 per cent (B+) or higher
Undergraduate preparation in research and statistics
RN registration in good standing with the College of Nurses of Ontario and able to practice without restrictions (expect international students).
Current membership in the Registered Nurses' Association of Ontario (except international students).
In addition to the general admission requirements listed above, applicants to this program must meet the following criteria:
Completion of a master's degree in Nursing (or other field related to health care).
Agreement for supervision from a faculty member whose research aligns with the applicant's interests and who has been approved to supervise PhD students.
Completion of a master's thesis/research project.
Applicants from non-thesis Master's programs will also be considered, and may be asked to complete a Qualifying Research Project early in their program of study.
PhD applicants may be required to interview with a panel of core faculty as part of the application process.
Additional Requirements
International students must meet English language fluency requirements
Application Deadline
Acceptance notification begins at the end of March.