Pathology and Laboratory Medicine MSc
Pathology and Laboratory Medicine
Master of Science (MSc)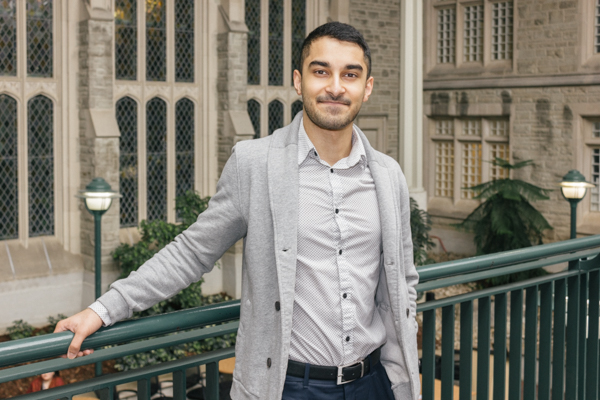 "The Pathology program here at Western has a very strong support network for their graduate students, which promotes a close-knit community."
Supervisor: Subrata Chakrabarti
Why did you come to Western for your graduate degree?
I decided to pursue my graduate degree at Western University for several reasons. First, the Pathology program at Western is very reputable. Second, the unique translational aspects of the program set it apart from other Pathology programs across Canada. Third, Western University is home to cutting-edge research.
Do you engage in volunteer activities?
Yes, I volunteer with "Be Al U Ca-N B". I go to elementary school classes where I teach the children about diabetes and the research that I do. I also volunteer with "Retiring with Strong Minds", I am able to talk about my research to senior residents living in retirement homes.
Have you worked as a TA or RA?
Being a research assistant has allowed me to develop, and expand, valuable skills such as critical thinking, creativity, persistence, and communication. These skills will compliment my future academic career.
What one thing would you like people to know about you?
No matter where you come from, anything is possible. I want people to know that I'm the first person in my family to attend university and pursue graduate work.
What's the best advice you could give to someone considering applying to your graduate program?
First, find a topic that interests you. After that, find a supervisor that will inspire you to learn and grow as a graduate student. Then it will be up to you to take advantage of the available opportunities and make the best out of these opportunities.
Program Websites
Program Contact
Tracey Koning
(
pathgrad@uwo.ca
)
Graduate Program Coordinator
Department of Pathology and Laboratory Medicine
Western University
Dental Sciences Rm 4044
London, Ontario N6A 5C1
t.
519-661-2111 ext. 81549
f.
519-661-3370
Graduate research is focused on the mechanisms of cell and tissue injury; the etiology, pathogenesis and behaviour of disease; identification of novel biomarkers; potential treatment targets of various diseases; and molecular imaging.
Program Length
6 Terms (Full-time study)
12 Terms (Part-time study)
Program Design
Full-time study or part-time study
Thesis-based
Funding Information
Applicants are encouraged to apply for the following scholarships (if eligible):
Tuition and Fees
Tuition and fee schedules (per term) are posted on the Office of the Registrar's website at http://www.registrar.uwo.ca/student_finances/fees_refunds/fee_schedules.html
Admission Requirements
Honours degree (4 year degree) in the Sciences; M.D or D.D.S. degree from an accredited university.
A third and fourth year combined entrance average of 80% or greater.
English Language Proficiency
Applicants whose first language is not English must furnish evidence of their proficiency in the use of the English language by a satisfactory achievement within the last two years in one of the following:
Students who are required to present evidence of proficiency in English must make their own arrangements to write the TOEFL, IELTS, or CAEL and to have the official results sent directly to the School of Graduate and Postdoctoral Studies by the testing agency. Those graduates from Fanshawe College's ESL Program must provide official proof of graduation.

Application Deadline

February 1 - Fall Term
June 1 (pending spots remaining) - Fall Term
March 1 - Summer Term
November 1 - Winter Term

Applications are accepted year round however, you should try to meet the deadlines above in order to be accepted for the term you are applying to.

Fields of Research

Molecular Pathology and Transplant Pathology
Neuropathology
Oncology & Environmental Pathology
One Health