Pathology and Laboratory Medicine PhD
Pathology and Laboratory Medicine
Doctor of Philosophy (PhD)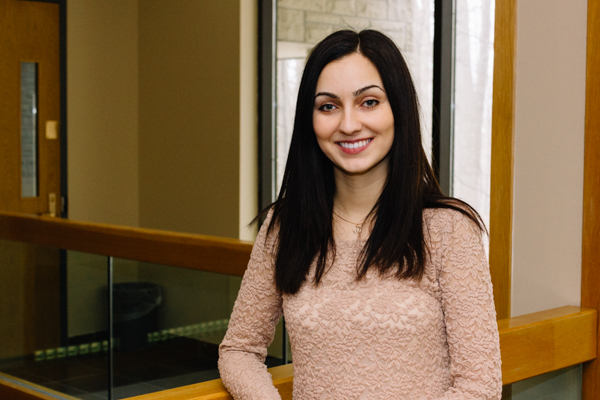 "I think a great aspect of our graduate program is that there are so many clinician-scientists that are conducting research within the Department of Pathology and Laboratory Medicine. I am co-supervised by both a basic scientist and a physician clinical scientist. Both have a vast amount of knowledge to offer, but working with a physician give your research an exciting edge and makes it much more translational. They can also advise you on a lot of clinical subjects, helping you better understand the 'big picture' of the current health problems faced."
Supervisors: Dr. Ann Chambers and Dr. Alan Tuck
Why did you come to Western for your graduate degree?
Lots of impressive research is being conducted at Western University, so this was the biggest driving force. What also helped was that I liked the city of London, having visited my friend here for years, and it is not very far from my hometown!
Describe your research in 100 words or less.
I study a transcription factor whose overexpression has been implicated in several cancers – I study what it does in breast cancer. I've shown that this protein promotes progression in a model of early breast cancer. I'm zoning in on the pathways that are implicated in this progression. Our aim is to stratify breast cancer patients into low-risk and high-risk groups. This would allow for the targeting the high-risk lesions for more aggressive therapy and avoiding over-treatment of low-risk patients.
What's the best advice you could give to someone considering applying to your graduate program?
Do a lot of research before you choose a lab to join. Lots of details must be taken into account: your interest in the research and the way this potential supervisor runs the lab and interacts with lab members are the most important. If there is a lot of independent work or few/no students to help you in your growth, then that lab may not be the best fit for you. Alternatively, if you're a good independent learner this may be a great environment for you. I would also advise you to talk to current students in the lab and ask them questions after the interview process.
Where's your favourite place on campus to work?
As my lab is located in Victoria Hospital I only come to campus for either classes or seminars. Us off-campus graduate students like to hang out and get a coffee at the UH cafeteria between classes.
What is your "dream" career?
My dream career would be working as a clinical molecular geneticist.
What's your favourite music?
I like all sorts of music – Beirut, Elliott Smith, and Neutral Milk Hotel have been my favourites for a long time. I also really like anything with piano and accordion, and Yann Tiersen is great for that.
What one thing would you like people to know about you?
I travelled to eight countries in three weeks during the past summer.
What idea, suggestion, or comment would you like to share with the Western graduate community?
Although I am off-campus and working at Victoria Hospital, I think that this is a great environment for research. The London Regional Cancer Program has lots of great research scientists specializing in both basic and clinical science, as well as several physicians, all of who conduct impactful translational research. I would suggest not being weary of joining an off-campus laboratory!
Program Websites
Program Contact
Tracey Koning
(
pathgrad@uwo.ca
)
Graduate Program Coordinator
Department of Pathology and Laboratory Medicine
Western University
Dental Sciences Rm 4044
London, Ontario N6A 5C1
t.
519-661-2111 ext. 81549
f.
519-661-3370
Graduate research is focused on the mechanisms of cell and tissue injury; the etiology, pathogenesis and behaviour of disease; identification of novel biomarkers; potential treatment targets of various diseases; and molecular imaging.


The Own Your Future doctoral professional development program will help you become a career-ready graduate with the skills necessary to excel in your studies and achieve your future goals. By participating in the program, you will assess your own strengths and opportunities for growth, choose what skills you want to enhance during your time at Western, and learn how to articulate the skills you gained in your degree to optimize your future career opportunities. To learn more, visit www.uwo.ca/ownyourfuture.
Program Length
Program Design
Full-time study or Part-time study
Thesis-based
Funding Information
Applicants are encouraged to apply for the following scholarships (if eligible):
Tuition and Fees
Tuition and fee schedules (per term) are posted on the Office of the Registrar's website at http://www.registrar.uwo.ca/student_finances/fees_refunds/fee_schedules.html
Admission Requirements
Master's degree from an accredited university.
An average of 80% or greater for all available graduate courses.
English Language Proficiency
Applicants whose first language is not English must furnish evidence of their proficiency in the use of the English language by a satisfactory achievement within the last two years in one of the following:
Students who are required to present evidence of proficiency in English must make their own arrangements to write the TOEFL, IELTS, or CAEL and to have the official results sent directly to the School of Graduate and Postdoctoral Studies by the testing agency. Those graduates from Fanshawe College's ESL Program must provide official proof of graduation.

Application Deadline

February 1 - Fall Term
June 1 (pending spots remaining) - Fall Term
March 1 - Summer Term
November 1 - Winter Term

Applications are accepted year round however, you should try to meet the deadlines above in order to be accepted for the term you are applying to.

Fields of Research

Molecular Pathology and Transplant Pathology
Neuropathology
Oncology & Environmental Pathology
One Health