Physiology and Pharmacology MSc
Physiology and Pharmacology
Master of Science (MSc)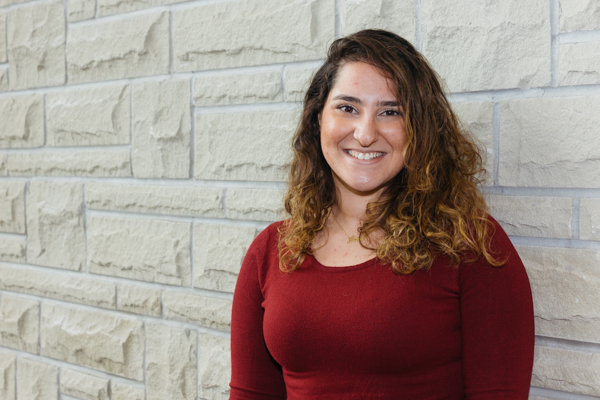 "The lab atmosphere, my Principal Investigator, and colleagues are, and have been, the most supportive people who are with me every step of the way since day one."
Why did you come to Western for your graduate degree?
After I completed high school in Lebanon, I came to Canada for vacation potentially seeking a university for my graduate degree. I heard about Western and decided to take a campus tour to explore the university. I fell in-love with the campus, institutional reputation that it held, and the resources it offered. It was the only university I had set my mind to when applying for higher education. After completing my undergrad studies, I researched more about Western, and found out that it truly is a remarkable institution for research-based programs, in addition to many other fields. It provides its graduate students with a wide range of opportunities such as presenting your work at academic conferences, becoming a teaching assistant, and being able to develop and enhance oneself professionally.
Describe your research.
My research is based on a calcium signaling protein known as mitochondrial calcium transporter protein also called MCU. It is located in the mitochondria and regulates calcium which is an important signaling molecule for many cellular processes. My focus is specifically on the on the N-terminal domain of MCU ( so a protein has a complex quaternary structure, and is made up primarily of a C-terminal domain, N-terminal domain, and the backbone of the protein itself) where I will be investigating the effects of post-translational modifications on the N-terminal domain of MCU and how they affect the structure and therefore function of MCU, which will eventually affect the calcium uptake.
What is your "dream" career?
One of my dream career aspirations is to be working in the pharmaceutical industry where I can produce and develop new medications/drugs. I always had the interest of working and creating new medications that would help fight many diseases/disorders, and eventually help cure unhealthy patients by the invention of new therapeutics. I have always been interested in the pharmacodynamics and the interactions between both. Having this Master's opportunity at Western, I am certain it will provide me with the needed knowledge and skills to hopefully achieve that someday!
What's the best advice you could give to someone considering applying to your graduate program?
Graduate school is an incredible and unique experience, and whoever gets the opportunity shouldn't waste it. Not only does it help you to build a higher education and enhance your career opportunities, but it also develops character and personal growth.
Program Websites
Program Contact
Olga Krougly
(
okrougly@uwo.ca
)
Administrative Assistant
Department of Physiology and Pharmacology
Western University
Medical Sciences Rm 216
London, Ontario N6A 5C1
t.
519-661-3460
The goals of this graduate program are to train students in Physiology and Pharmacology. Graduates of the Master's program will be capable of active participation in a research program, and of teaching the disciplines as well as applying physiological, pharmacological and/or toxicological principles in industrial and professional contexts. Graduation from the Doctoral program is an essential step towards a career as an independent researcher in academia, and to obtain higher level professional positions in the biotechnology and pharmaceutical industries, as well as government agencies and research-funding organizations.
Program Length
Program Design
Full-time study
Thesis-based
Funding Information
Applicants are encouraged to apply for the following scholarships (if eligible):
Tuition and Fees
Tuition and fee schedules (per term) are posted on the Office of the Registrar's website at http://www.registrar.uwo.ca/student_finances/fees_refunds/fee_schedules.html
Admission Requirements
Honours degree (4 year degree) or its equivalent in physiology, pharmacology, toxicology, biology or a related discipline.
Minimum academic average of 80% during the final two years of the undergraduate program.
English Language Proficiency
Applicants whose first language is not English must furnish evidence of their proficiency in the use of the English language:
Application Deadline
February 1 - Fall Term
July 31 (pending spots remaining) - Fall Term
March 1 - Summer Term
November 1 - Winter Term
Fields of Research
Cardiovascular Sciences
Cell, Developmental and Cancer Biology
Clinical and Basic Pharmacology
Neurosciences
Reproductive Biology and Endocrinology