Physiology and Pharmacology PhD
Physiology and Pharmacology
Doctor of Philosophy (PhD)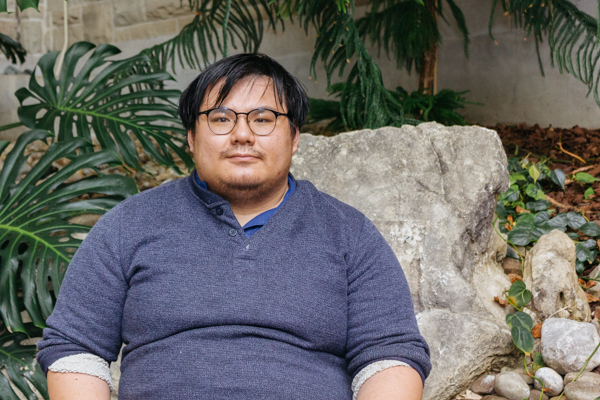 "Our program is research driven so we get the courses to get us started but realize that it is the experience of doing research that shapes us into scientists ready to tackle the world."
Describe your research.
Calcium is mostly thought of as a mineral for healthy bones and teeth, but it also acts as an essential messenger that controls diverse cellular functions including cell death. Movement of calcium in the mitochondria; important for cellular bioenergetics and signal transduction pathways, is tightly controlled by mitochondrial calcium transporters. Leucine zipper EF-hand containing transmembrane protein-1 (LETM1) is one such transporter that is thought to work in fine tuning calcium levels that is seemingly controlled by a unique calcium binding EF-hand domain. I study the mechanistic function of this EF-hand domain in relation to LETM1 function using biophysical and structural approaches.
Where's your favourite place on campus to work?
You will likely find me in the lab, or the student offices provided in MSB now, but my favourite spot would have to be the indoor balcony in the back of NCB. What a wonderful spot in the fall!
Have you worked as a teaching assistant?
I have worked as a TA for all my years of graduate school. It has been a wonderful experience getting involved on the other side right where it started for me too. Being able to mentor and guide undergraduate students has been a learning opportunity for me as well – developing my interpersonal skills, my own competence with the learning materials, and also just my confidence. Being able to be that friendly, knowledgeable, and caring TA for others that several TAs were to me in the past, was just a really rewarding experience.
Have you engaged with any Own Your Future professional development opportunities?
I have taken workshops and professional leadership development courses offered through
Own Your Future
. They were really insightful, and helped me develop intrapersonal skills that I have utilized in various committees and overall interactions.
What suggestion would you like to share with the Western graduate community?
I would say to the Western grad community that I feel we don't get together as much as I'd like to see in terms of inter-department/faculty mingling. There is so much cool science/research happening on campus, and if we were to get a better understanding of the breadth of work being done, the collaboration among different fields could be awesome.
Program Websites
Program Contact
Olga Krougly
(
okrougly@uwo.ca
)
Administrative Assistant
Department of Physiology and Pharmacology
Western University
Medical Sciences Rm 216
London, Ontario N6A 5C1
t.
519-661-3460
The goals of this graduate program are to train students in Physiology and Pharmacology. Graduates of the Master's program will be capable of active participation in a research program, and of teaching the disciplines as well as applying physiological, pharmacological and/or toxicological principles in industrial and professional contexts. Graduation from the Doctoral program is an essential step towards a career as an independent researcher in academia, and to obtain higher level professional positions in the biotechnology and pharmaceutical industries, as well as government agencies and research-funding organizations.


The Own Your Future doctoral professional development program will help you become a career-ready graduate with the skills necessary to excel in your studies and achieve your future goals. By participating in the program, you will assess your own strengths and opportunities for growth, choose what skills you want to enhance during your time at Western, and learn how to articulate the skills you gained in your degree to optimize your future career opportunities. To learn more, visit www.uwo.ca/ownyourfuture.
Program Length
Program Design
Full-time study
Thesis-based
Funding Information
Applicants are encouraged to apply for the following scholarships (if eligible):
Tuition and Fees
Tuition and fee schedules (per term) are posted on the Office of the Registrar's website at http://www.registrar.uwo.ca/student_finances/fees_refunds/fee_schedules.html
Admission Requirements
Honours degree (4 year degree) or its equivalent in physiology, pharmacology, toxicology, biology or a related discipline.
Minimum academic average of 80% during the final two years of the undergraduate program.
M.Sc.,degree in one of the named disciplines, or an M.D. or D.D.S. degree.
Under exceptional circumstances direct entry to the Ph.D. program will be considered for applicants holding an Honours degree.
Additional Requirements
International students who have obtained an M.Sc. degree from an international institution normally enter the M.Sc. graduate program to start. After one year, research progress is assessed by the student's advisory committee and he/she may be transferred to the Ph.D. program.
English Language Proficiency
Applicants whose first language is not English must furnish evidence of their proficiency in the use of the English language:
Application Deadline
February 1 - Fall Term
July 31 (pending spots remaining) - Fall Term
March 1 - Summer Term
November 1 - Winter Term
Fields of Research
Cardiovascular Sciences
Cell, Development and Cancer Biology
Clinical and Basic Pharmacology
Neurosciences
Reporductive Biology and Endocrinology