Sociology
Master of Arts (MA)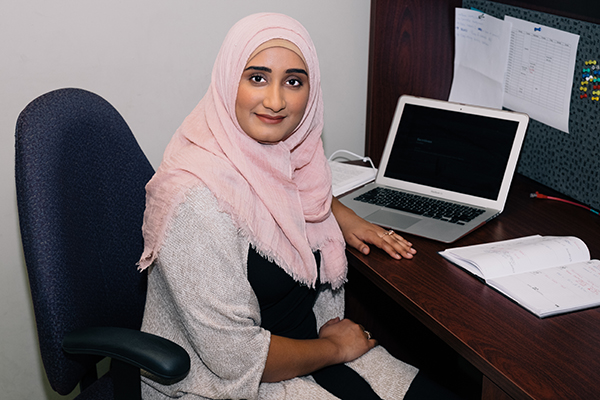 "One of my professors once told me that you can't get through graduate school without some tears. Feeling overwhelmed is a normal part of the process. There are going to be times that are stressful where you feel like whatever you are working on is impossible to achieve, but if you are really committed to what you are doing just keep going because it will be worth it in the end."
Supervisor: Wolfgang Lehmann
Why did you come to Western for your graduate degree?
I had a great experience within the sociology department as an undergraduate student. As I began to take upper year courses, I was exposed to smaller class sizes and I was able to have more one-on-one interactions with my professors. It was exciting to hear about their research, and to learn that I could pursue my academic interests by continuing my studies at the graduate level.
I also got to know a number of faculty members very well through my involvement in the department as an undergrad, and I was impressed by how supportive and available they were to students. I knew it was the perfect environment for me to thrive in academically, and the department also provides a good funding package (which was very important to me).
I was also drawn in by the Migration and Ethnic Relations program because I knew it would enhance my understanding, and provide me with opportunities to develop a strong network in the field.
Where is "home" for you?
Hamilton, Ontario.
Where's your favourite place on campus to work/study/research? Why?
My office in the sociology department. It's nice to not have to worry about finding a spot in the library, or an outlet to plug my computer into, the way I did in undergrad. It really provides me with a good environment to get work done in, but I am also surrounded by friends and colleagues if I want to take a break, or ask questions.
What is it about your grad program that enables you to thrive and be successful?
For me it is the people in my department. I have been able to develop some really great friendships with other students and I think that you really need that. Not only is it great to be able to bounce ideas off of your peers, but they also keep you sane during the stressful periods because they know exactly what you are going through.
I am also very fortunate to have an incredible supervisor, Dr. Wolfgang Lehmann, who is always supportive and understanding, but also challenges me and provides me with constructive feedback.
Many faculty members in my department are always willing to make themselves available to students to sit down and discuss ides and concerns. In addition to my supervisor, I have been lucky enough to develop two great mentor relationships with Dr. Tracey Adams and Dr. Scott Schaffer. This type of open communication between faculty and students really motivates me to thrive and be successful because it creates a productive and engaging environment to work in that really makes me want to put my best effort into everything I do.
The funding my department offers is also very important because it ensures that I can spend more time focusing on my studies, rather than worrying about how to make ends meet.
What's the best advice you could give to someone considering applying to your graduate program?
Make sure you don't spend too much time comparing yourself to your peers because it will drive you crazy and you will burn out quickly. I think it's more important to support one another because graduate school can be isolating, and it's nice to have support from your peers.
I would also suggest talking to as many professors as you can. There are some really brilliant people in my department who have incredible life experiences and amazing projects on the go, so make sure to take some time to get to know them.
Have you worked as a teaching assistant or research assistant?
I have worked as both a teaching assistant (TA) and a research assistant (RA). Both positions have provided me with beneficial experiences.
Working as a TA really helped me overcome my own anxiety when it comes to public speaking. I am a lot more comfortable when it comes to presenting at academic conferences, as well as leading seminars in my own classes.
Being an RA has helped me strengthen my research skills, as well as learn new research techniques. It has also helped confirm my desire to pursue some sort of career in which I am able.
What one thing would you like people to know about you?
I really believe that sociology can help to better the world.
Program Websites
Program Contact
Sandra Vilovski
(
svilovsk@uwo.ca
)
Graduate Program Coordinator
Department of Sociology
Western University
Social Science Centre Rm 5312
London, Ontario N6A 5C2
t.
519-661-2111 ext. 85144
f.
519-661-3200
Our faculty include award-winning, internationally renowned scholars in Social Inequality, Aging & Health, and Population Studies. We also have research expertise in areas such as youth and identity, criminology, and work. Furthermore, we are home to the Centre for Population, Aging and Health. We are active participants in the collaborative specializations in Migration & Ethnic Relations and Transitional Justice & Post-Conflict Reconstruction. Moreover, our researchers benefit from the Research Data Centre housed at Western and one of the top academic libraries in the country.
Upon completion, our graduates work in a variety of academic institutions, government agencies and private businesses around the world. The department houses a graduate student computer lab, office space, classrooms, research space and a lounge. With all of these facilities located on the fifth floor of the Social Science Centre, our students enjoy an inclusive environment and easy access to faculty members and facilities.
Program Length
3 Terms (Project-based)
6 Terms (Thesis-based)
Program Design
Full-time study
Project-based or thesis based
Funding Information
Applicants are encouraged to apply for the following scholarships (if eligible):
Tuition and Fees
Tuition and fee schedules (per term) are posted on the Office of the Registrar's website at http://www.registrar.uwo.ca/student_finances/fees_refunds/fee_schedules.html
Admission Requirements
Four-year degree, in Sociology or a related field.
First or high second class standing (minimum B+ or 78 overall average in completed courses in years 3 and 4).
Additional Requirements
While students who have taken sociological theory, statistics and/or methods are preferred, excellent students without this background may be considered.
English Language Proficiency
Applicants whose first language is not English must furnish evidence of their proficiency in the use of the English language:
Application Deadline
January 15 - Acceptance notification in late March
Late applications are still accepted under certain conditions. Please visit Sociology - How to Apply for more information.
Fields of Research
Aging and the Life Course
Health and Health Inequality
Inequality, Power, and Social Regulation
Social Demography and Migration
Work, Occupations, and Professions