Sociology
Doctor of Philosophy (PhD)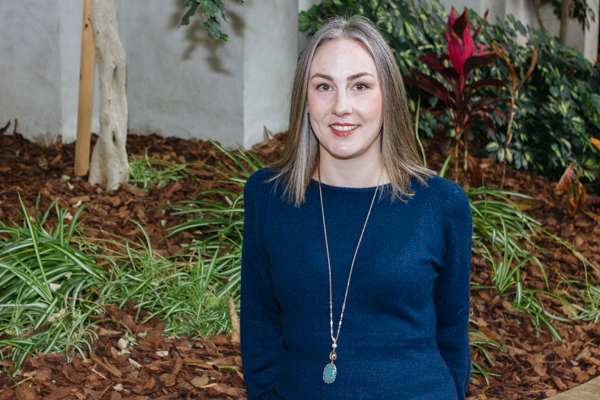 "Graduate school, particularly a PhD, is a marathon, not a sprint. Some people finish quicker than others. It doesn't matter how others are running. Focus on you and your end point, and the process will be much more pleasant."
Where's your favourite place on campus to work?
My favourite place to study and work on campus is my department office. I have a great set up that has been accommodated for my accessibility needs. It is also in a busier department hallway, so I am able to socialize and chat with peers and professors when I need a work break.
What's the best advice you could give to someone considering applying to your graduate program?
Do your research. Pick a department and program that fits your needs, and is going to be supportive to you. This might mean reaching out to professors and graduate students before your applications to get more information about programs and supervisory capabilities.
Have you engaged with any Own Your Future professional development opportunities?
I have engaged in various Own Your Future professional development opportunities including the dissertation writer's retreats and career development workshops. The writer's retreats are great for motivating yourself to get writing done, and to connect with other PhDs on their writing struggles and solutions. The career development workshop series was very beneficial for learning how to prepare for a non-academic job market. I would highly recommend this series for anyone who wants to work outside of academia. We learned how to develop interview skills, our resumes, LinkedIn profiles, and network (which is not as scary as it seems!). I loved having an opportunity to connect with a policy advisor for the Government of Canada to learn if that career path would be right for me.
Have you worked as a TA or RA?
I was a TA for five years in my department for Introduction to Sociology and Qualitative Methods. I really enjoyed being a TA. It helped me learn to be organized and create lesson plans. Running tutorials also greatly enhanced my public speaking abilities and presentation skills.
Describe your research.
My research uses Canadian population-based data from Statistics Canada to examine the impacts of informal caregiving (e.g. caring for an aging parent, a sick spouse), and caregiving contexts (e.g. location of care, intensity of care) on mental health and well-being outcomes. I am specifically interested in how these findings can inform and improve national and sub-national caregiving policies and supports for informal caregivers.
What one thing would you like people to know about you?
My PhD did not take the trajectory that I thought it would. About three years in, I was hit by a car (as a pedestrian) and broke my neck. I now live with chronic pain. I have also lived the majority of my adult life with anxiety and depression. My PhD has taken a lot longer to finish because of these things. At times it has been challenging, but I still continue to plug away. I want people to know this because no graduate program will go the way you had hoped, and that is okay. Everyone will have to struggle with something, and you don't have to be alone in that struggle. The more we talk about these things and "imposter syndrome" in graduate school, the happier and better the experience will be.
Program Websites
Program Contact
Sandra Vilovski
(
svilovsk@uwo.ca
)
Graduate Program Coordinator
Department of Sociology
Western University
Social Science Centre Rm 5312
London, Ontario N6A 5C2
t.
519-661-2111 ext. 85144
f.
519-661-3200
Our faculty include award-winning, internationally renowned scholars in Social Inequality, Aging & Health, and Population Studies. We also have research expertise in areas such as youth and identity, criminology, and work. Furthermore, we are home to the Centre for Population, Aging and Health. We are active participants in the collaborative specializations in Migration & Ethnic Relations and Transitional Justice & Post-Conflict Reconstruction. Moreover, our researchers benefit from the Research Data Centre housed at Western and one of the top academic libraries in the country.
Upon completion, our graduates work in a variety of academic institutions, government agencies and private businesses around the world. The department houses a graduate student computer lab, office space, classrooms, research space and a lounge. With all of these facilities located on the fifth floor of the Social Science Centre, our students enjoy an inclusive environment and easy access to faculty members and facilities.


The Own Your Future doctoral professional development program will help you become a career-ready graduate with the skills necessary to excel in your studies and achieve your future goals. By participating in the program, you will assess your own strengths and opportunities for growth, choose what skills you want to enhance during your time at Western, and learn how to articulate the skills you gained in your degree to optimize your future career opportunities. To learn more, visit www.uwo.ca/ownyourfuture.
Program Length
Program Design
Full-time study
Thesis-based
Funding Information
Applicants are encouraged to apply for the following scholarships (if eligible):
Tuition and Fees
Tuition and fee schedules (per term) are posted on the Office of the Registrar's website at http://www.registrar.uwo.ca/student_finances/fees_refunds/fee_schedules.html
Admission Requirements
Master's degree or equivalent.
At least a high second class standing (B+) in the master's degree.
It is preferred but not essential that this Master's degree be in sociology. Applicants who have taken sociological theory, statistics and methods are preferred.
Additional Requirements
A writing sample (e.g. term paper, excerpt from MA thesis), maximum 20 double-spaced pages.
English Language Proficiency
Applicants whose first language is not English must furnish evidence of their proficiency in the use of the English language:
Application Deadline
January 15 - Acceptance notification in late March
Late applications are still accepted under certain conditions. Please visit Sociology - How to Apply for more information.
Fields of Research
Aging and the Life Course
Health and Health Inequality
Inequality, Power, and Social Regulation
Social Demography and Migration
Work, Occupations, and Professions