Visual Arts
Master of Fine Arts (MFA)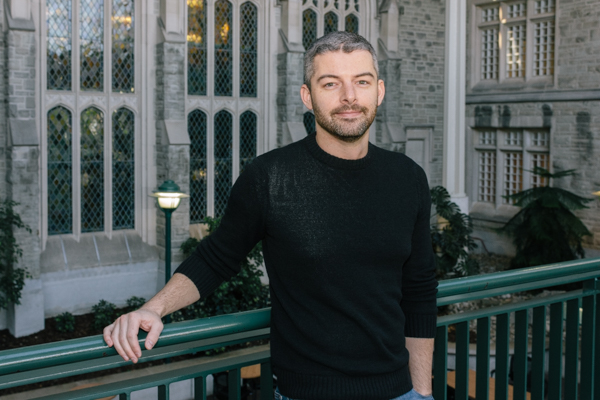 "The best part about my grad program is the community of peers and faculty that I have access to during my time here. The faculty are award-winning professionals and an endless source of knowledge."
Supervisor:
Christof Migone
Why did you come to Western for your graduate degree?
I came to Western after recommendations from several alumni, and because Western provides excellent funding opportunities.
Where's your favourite place on campus?
I have a dedicated semi-private studio space where I can be creative and make a mess, which I appreciate very much. When writing or studying I usually end up in my studio, or in the Weldon Library in the Pride Library.
Describe your research.
My studio-based research practice involves making sculptures and oil paintings that explore the topics of gender identity and performance.
What's the best advice you could give to someone considering applying to your graduate program?
Being organized is your ultimate weapon. Having your applications, references and grades lined up ahead of time will make the process smooth and stress-free.
What idea, suggestion, or comment would you like to share with the Western graduate community?
Get involved in the arts community at Western! We have a strong and established gallery - The McIntosh Gallery - that holds a wonderful collection. The gallery holds free exhibition openings and speakers at the John Labatt Visual Arts Centre every month.
Program Websites
Program Contact
Linda Meloche, Program Assistant
(
vagrads@uwo.ca
)
Department of Visual Arts
Western University
John Labatt Visual Arts Centre
London, Ontario N6A 5B7
t.
519-661-2111 ext. 83440
f.
519-661-2020
The MFA in Visual Art offers training in contemporary visual art and prepares its graduates for professional careers as artists and curators, as well as for advanced training at the PhD level, and for a range of careers in galleries, museums, and other art world contexts. It combines an emphasis on critical theory with instruction in the studio arts. In the first semester, all MA and MFA students take a core course in art theory together, thereby providing opportunities for exchange and collaboration. Students work in small seminar courses to develop their research and studio practice.
Program Length
Program Design
Full-time study
Thesis-based
Funding Information
Applicants are encouraged to apply for the following scholarships (if eligible):
Tuition and Fees
Tuition and fee schedules (per term) are posted on the Office of the Registrar's website at http://www.registrar.uwo.ca/student_finances/fees_refunds/fee_schedules.html
Admission Requirements
A BFA or Honours BA degree in visual arts with a minimum B+ standing.
Students with a studio concentration in a Bachelor's program will also be considered if they can demonstrate significant experience and accomplishments in the field. It is preferred that students also have a minimum of three full courses (or equivalent) in art history, including modern, contemporary, and Canadian art.
Additional Requirements
Students must submit a sample of written work of at least 1000 words. In addition, we require photographic, video or digital documentation of studio practice, accompanied by a description of the work..
English Language Proficiency
Applicants whose first language is not English must furnish evidence of their proficiency in the use of the English language by a satisfactory* achievement within the last two years in one of the following:
*Programs at Western may require a higher minimum score than those listed above.
Students who are required to present evidence of proficiency in English must make their own arrangements to write the TOEFL, IELTS, or CAEL and to have the official results sent directly to the School of Graduate and Postdoctoral Studies by the testing agency. Those graduates from Fanshawe College's ESL Program must provide official proof of graduation.
Exemptions
Other formal evidence of graduate level proficiency in English may be considered in lieu of these test scores. Students must contact the graduate program(s) to which they have applied in order to determine if test scores will not be required. A decision will then be made at the discretion of the School of Graduate and Postdoctoral Studies for exemption. For the French and Spanish programs only, evidence of proficiency in English is a degree requirement but not a requirement for admission.
Application Deadline
January 15 - Acceptance notification in March