Biochemistry
Doctor of Philosophy (PhD)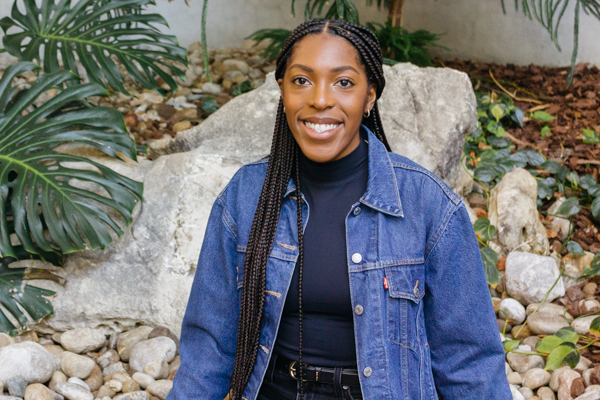 "Over time you will be very impressed with all your accomplishments. You will come out of this program with a re-shaped perspective on how to approach a problem. You will become a critical thinker."
Why did you come to Western for your graduate degree?
I came to western because of my project and the welcoming environment of my department. I was excited about my project outline, and impressed with the amount of different skills that I would be exposed to in a well-funded lab. I did a lot of research and spoke to current and past biochemistry graduate students who loved their time here. From these conversations, I quickly learned and felt a big sense of community from the students, and appreciated that different supports were available for mentorships. Also, I was impressed with the scholarship track record in the lab I was applying to (many of the students held prestigious provincial or national scholarships), and the publication track record was high in my department.
Describe your research.
Gastrointestinal cancers are some of the most prevalent cancers worldwide. Despite their high frequency, detection and treatment strategies remain difficult. Therefore, a better understanding of the molecular characteristics underlying these types of cancers is necessary for the development of improved screening tests and therapies. I am investigating how a protein complex is involved in regulating a signaling pathway, which is often dysregulated in cancers. Throughout my project, I have had the ability to use many different biochemical techniques to probe my research question, and I get to work with different human cancer cell lines and mouse models.
What's the best advice you could give to someone considering applying to your graduate program?
Biochemistry encompasses a lot of different areas of research. In our department, you will notice this as the research topics vary across different labs. Additionally, every lab works differently (i.e. mentorship style). Therefore, before applying to the program, it is important that you self-reflect, and you think about what you want to get out of your graduate experience. Once you are able to identify your goals, use this to guide yourself during the application process. This will ensure you choose a lab that aligns with your goals and needs.
Program Websites
Program Contact
Megan Luckovitch
(
mluckovi@uwo.ca
)
Graduate Program Administrator
Department of Biochemistry
Western University
Medical Sciences Rm 342
London, Ontario N6A 5C1
t.
519-661-2111 ext. 86850
Biochemistry is used to study living systems at the molecular level. The research of our PhD students spans a variety of interconnected fields that aim to understand and treat human disease and improve human health and well-being.

Several groups are studying human genetics, genome dynamics and epigenetics, and the regulation of gene expression, including the regulatory roles of RNA. Others are focused on protein structure and function, proteomics, and cellular signalling. Computational approaches and bioinformatics are becoming increasingly integrated into biochemical research. And new technologies are enabling efforts to engineer biological systems for research and biotechnology, ushering in the exciting new era of synthetic biology that includes the editing and synthesis of genomes, genetic code expansion, and the creation of new biosynthetic pathways and even new organisms.


The Own Your Future doctoral professional development program will help you become a career-ready graduate with the skills necessary to excel in your studies and achieve your future goals. By participating in the program, you will assess your own strengths and opportunities for growth, choose what skills you want to enhance during your time at Western, and learn how to articulate the skills you gained in your degree to optimize your future career opportunities. To learn more, visit www.uwo.ca/ownyourfuture.
Program Length
Program Design
Full-time study
Thesis-based
Funding Information
Applicants are encouraged to apply for the following scholarships (if eligible):
Tuition and Fees
Tuition and fee schedules (per term) are posted on the Office of the Registrar's website at http://www.registrar.uwo.ca/student_finances/fees_refunds/fee_schedules.html
Admission Requirements
BSc in biochemistry, biology, genetics, chemistry, cell biology, microbiology, physiology or closely related disciplines.
Minimum 78% GPA in the undergraduate and master's degree; 85% for direct entry to the PhD program.
English Language Proficiency
Applicants whose first language is not English must furnish evidence of their proficiency in the use of the English language:
Application Deadline
February 1 - Fall or Summer Term
June 1 - Fall Term
October 15 - Winter Term
Acceptance notifications begin as soon as your application is completed and reviewed.
Fields of Research
Bioinformatics
Genome Dynamics, Epigenetics, and Gene Expression
Human Genetics and Clinical Biochemistry
Macromolecular Structure and Dynamics
Proteomics
Signal Transduction and Intercellular Communication