Biomedical Engineering PhD
Biomedical Engineering
Doctor of Philosophy (PhD)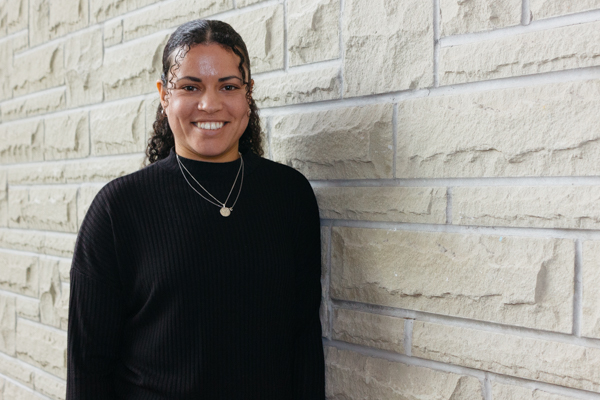 "The BME graduate program has an active and engaged student population. This makes it easy to reach out to peers when in need of support, and have a community to do non-academic related activities with."
Why did you come to Western for your graduate degree?
The ultimate appeal of Western for my graduate studies was collaborative opportunities and resources available right on campus. Western has a great network of partners and affiliations with clinicians and health care workers. With a hospital and sports medicine clinic right on campus, the opportunity to have health care professionals and facilities as a part of my research resources was a unique and invaluable opportunity considering my research interests and goals.
Describe your research.
I investigate the impact of differing surgical approaches in total knee replacement on the knee's biomechanical behavior. I am specifically comparing robotic-assisted and conventional methods via biomechanical and medical imaging models.
What suggestion do you have for the Western graduate community?
Get involved! I understand it can be super daunting. I didn't do my undergraduate degree at Western, but a lot of my peers who started graduate studies in my program the same semester as me did go here, so I felt a step behind in terms of being comfortable in the space. Joining an intramural team and attending events changed that for me.
What advice would you like to share?
Speak to current members of the lab(s) you are interested in working in. Every lab operates a little differently, so hearing about lab culture, expectations, and dynamics from someone who is living it can be very helpful. Don't be afraid to be picky and find the fit that is right for you.
What one thing would you like people to know about you?
I am a black woman in engineering. While it doesn't define me, it is one of the things I am most proud of.
Program Websites
Program Contact
bmeoffice@uwo.ca
Program Coordinator
Biomedical Engineering Graduate Program
Western University
Amit Chakma Engineering Building, Room 2405
London, Ontario N6A 5B9
t.
519-661-2111 ext. 84288
The PhD in Biomedical Engineering offers specializations in Biomaterials, Biomechanics, Mechatronics, and Imaging.
Biomedical Engineering is a program that promotes the cooperative involvement of clinical and basic researchers in allied disciplines such as imaging, biomaterials, biomechanics and mechatronics. This program encourages multidisciplinary links between the faculties of Engineering, Medicine & Dentistry, and Health Sciences, Robarts Research Institute and London Health Research Institute, and Western's teaching hospitals.


The Own Your Future doctoral professional development program will help you become a career-ready graduate with the skills necessary to excel in your studies and achieve your future goals. By participating in the program, you will assess your own strengths and opportunities for growth, choose what skills you want to enhance during your time at Western, and learn how to articulate the skills you gained in your degree to optimize your future career opportunities. To learn more, visit www.uwo.ca/ownyourfuture.
Program Length
12 Terms (Full-time studies)
18-24 Terms (Flex-time studies)
Program Design
Full-time study and flex-time study
Thesis-based
Funding Information
Applicants are encouraged to apply for the following scholarships (if eligible):
Tuition and Fees
Tuition and fee schedules (per term) are posted on the Office of the Registrar's website at http://www.registrar.uwo.ca/student_finances/fees_refunds/fee_schedules.html
Admission Requirements
Minimum 80% (A-) average in the master's degree.
English Language Proficiency
Applicants whose first language is not English must furnish evidence of their proficiency in the use of the English language:
Application Deadline


March 1 - Summer term
July 1 - Fall term
November 1 - Winter term
Fields of Research
Biomaterials
Biomechanics
Imaging
Mechatronics