Engineering Leadership and Innovation GDip
Engineering Leadership and Innovation
Graduate Diploma (GDip)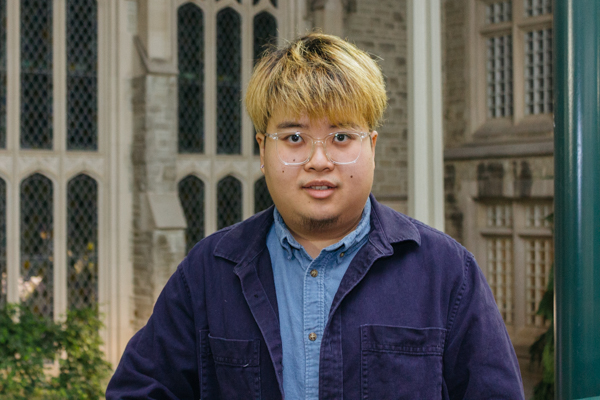 "I know that the application process, especially waiting for the results, can be very stressful. My own experience is not to regard the admission result as the school's approval or denial of me, but to explore where is the most suitable for my background and development."
Why did you come to Western for your graduate degree?
When I was about to complete the undergrad program, my past academic experience and future career goal inspired me to think about how to make my graduate studies more career-oriented and excavate my potential energy. The MEng program offered at Western University provides a wide range of topics ranging from Engineering Materials to Reverse Engineering & Medical Devices, which can help me broaden my career horizons. Moreover, the combined GDip courses like the New Venture Creative and Engineering Leadership provided me with a great opportunity to gain a fresh perspective on how to effectively integrate knowledge in the engineering field with marketing and innovation.
What is it about your grad program that enables you to thrive and be successful?
This program contains diverse topics about Mechanical and Materials, which enables more possibilities in career choice. It's worth emphasizing that I really enjoyed the courses that focus on innovation, entrepreneurship, and leadership; they provide a practical perspective on how to develop one's career in engineering, but also knowledge and cases related to intellectual property and business strategies.
What is your "dream" career?
At first, I plan to find an appropriate job at the start of my career, which can help me accumulate useful knowledge and experience. I prefer the fields about food industries, and R&D of advanced materials because they are relatively close to my background and experience. As for a long-term plan, after accumulating enough skills, I plan to establish my own studio, and to be a professional and reliable project leader.
What's the best advice you could give to someone considering applying to your graduate program?
I know that the application process, especially waiting for the results, can be very stressful. Based on my own experience, don' take the admission result as the school's approval or denial of you as a person – explore areas that are the most suitable for your background and academic development. In addition, course information will be provided on the website, which will help understand the program more accurately and thoroughly.
Program Websites
Program Contact
Kristen Edwards
(
khunt29@uwo.ca
)
Graduate Officer
Thompson Centre for Engineering Leadership and Innovation
Faculty of Engineering
Western University
Amit Chakma Engineering Building, Room 2410
London, Ontario N6A 5B7
The Thompson Centre offers this Graduate Diploma to provide the opportunity for engineering graduates to further develop professional leadership skills in the context of engineering practice, and to enhance their employability. Students will develop an entrepreneurial mindset along with leadership skills that are in demand from employers within start-ups, established firms, NGOs, or the public sector. The ability to cross boundaries towards business and organizational leadership is often seen as helping to accelerate an engineer's career. The program is unique at the graduate level in focusing on Engineering Leadership and Innovation, while maintaining the student's focus on STEM disciplines. The Diploma will appeal to recent graduates of Bachelor's and Master's programs, as well as to working professionals.
Program Length
Program Design
Full-time study or part-time study
Course-based
Funding Information
Tuition and Fees
Tuition and fee schedules (per term) are posted on the Office of the Registrar's website at http://www.registrar.uwo.ca/student_finances/fees_refunds/fee_schedules.html
Admission Requirements
Applicants must possess a four-year bachelor's degree or equivalent in Engineering or related discipline from an accredited university, with at least a 70% average (North American equivalent) across courses taken in the last two full-time years of the latest degree.
The required documents for admission consideration are:
One official transcript for each degree and/or institution attended, in English.
One official transcript for each degree and/or institution attended in the Native Language (if different from English).
One official certificate of proof of diploma in English.
One official certificate of proof of diploma in the Native Language (if different from English).
Two letters of references (preferably academic).
Proof of Canadian citizenship or Permanent Residency (if applicable).
English Language Proficiency
Applicants whose first language is not English or have not completed a post-secondary degree from a native-English speaking country, must furnish evidence of their proficiency in the use of the English language by a satisfactory achievement within the last two years in one of the following:
The Test of English as a Foreign Language (TOEFL).The minimum acceptable score is 86, with no individual score below 20 for the internet-based version; 213 for the standard electronic version; or 550 for the paper and pencil version, although some programs require a higher minimum score. [Western's TOEFL ID is 0984].
The International English Language Testing Service (IELTS Academic). Effective to new applications started on or after July 1, 2020, the minimum acceptable score is 6 out of 9 in the individual bands, with an overall score of 6.5 or higher. The IELTS is offered in 6 test centres in the US and 3 in Canada.
Western English Language Centre. Successful completion of the High-Advanced level.
Fanshawe College's ESL Program. The requirement is graduation from Level 10, English for Academic Purposes, with a minimum 80% in all components.
The Canadian Academic English Language Assessment (CAEL Assessment). The minimum acceptable score is 60. The CAEL Assessment is offered in several countries throughout the world as well as Canada.
Application Deadline
Domestic student deadlines: November 1 (January start); March 1 (May start); July 1 (September start)
International student deadlines: June 1 (January start); October 1 (May start); February 1 (September start)