Education Studies
Master of Arts (MA)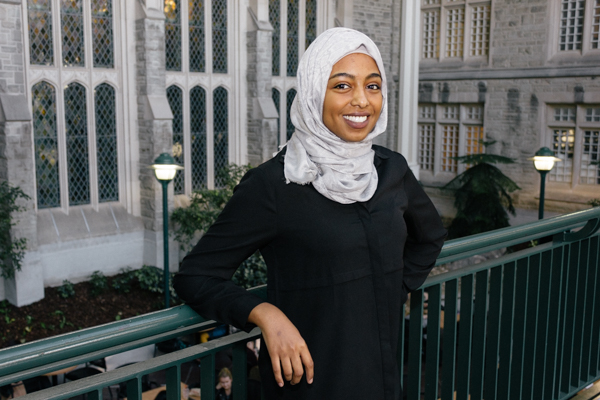 "My graduate experience at Western was a challenge, but it was, more importantly, a perfect exposure to the ways in which I can create lasting, positive impacts in the areas of academia and education."
What is it about your grad program that enables you to thrive and be successful?
The support of highly competent supervisors and colleagues, who push me to produce excellent work and go above and beyond by providing me excellent feedback, is what allows me to thrive and be successful in this program.
Where's your favourite place on campus?
My favourite place on campus is Weldon Library. Working at Weldon Library allows me to be productive, while enjoying its social and bustling environment of busy academics and students.
Describe your research.
Within a clinical sample of children and youth, my research reinforces the mental health and social outcomes of bullying and emotional abuse in Canada, specifically internalizing symptoms like depression and anxiety. My research also examines the ways in which protective factors like parenting and individual strengths mediate the relationships between trauma and internalizing symptoms.
Do you belong to any university or community groups?
I belong to the Society of Graduate Students (SOGS), the Education Graduate Student Association (EGSA), and the SGPS Working Group on Mental Health and WELLNESS.
What's the best advice you could give to someone considering applying to your graduate program?
I advise potential applicants to anticipate a highly challenging, but rewarding experience. Perseverance, professionalism, and collaboration will go a long way.
Our Master of Arts in Education Studies programs are designed to help students to succeed in their areas of interest by supporting them with top-tier researchers and academics, extensive library services, and helpful administrative support. Our master's students become teachers, administrators, and counsellors who influence the lives of young people. Many graduates from this program hold important roles in various sectors of education at the provincial, national and international levels.
Program Length
Program Design
Full-time study
Project-based or thesis-based
Funding Information
Applicants are encouraged to apply for the following scholarships (if eligible):
Tuition and Fees
Tuition and fee schedules (per term) are posted on the Office of the Registrar's website at http://www.registrar.uwo.ca/student_finances/fees_refunds/fee_schedules.html
Admission Requirements
Master of Arts in Education Studies
A four-year degree (20 full courses or equivalent) from an accredited university.
Minimum "B" standing (70%) or equivalent in the final two years of study.
Counselling Psychology Field
A four-year Honours degree (20 full courses or equivalent), with a major in Psychology, from an accredited university.
Minimum "B" standing (70%) or equivalent in the final two years of study.
An undergraduate honours thesis or equivalent (e.g. senior research project).
Minimum one year or equivalent paid and/or volunteer experience in the helping professions (Please see Faculty of Education website for further details, https://www.edu.uwo.ca/graduate-education/program/ma/counselling-psychology.html).
Additional Requirements
Master of Arts in Education Studies (Recommended)
A Qualification leading to certification as a teacher (e.g. B.Ed.).
Minimum one year of teaching experience, or experience within the field of education.
For application to the field of Education Psychology/Special Education only, a background in Psychology should be apparent. Preferably these applicants will have completed Additional Qualification Courses in Special Education (Part 1 & 2).
Counselling Psychology Field (Recommended)
Courses/background in research statistical methods.
A number of exceptions exist for the MA - Counseling Psychology field. Please visit Education - Admission Requirements for more information.
English Language Proficiency
Applicants whose first language is not English must furnish evidence of their proficiency in the use of the English language:
The Test of English as a Foreign Language (TOEFL). Minimum acceptable score is 550 for the paper and pencil version, 213 for the computer version, or 86 for the internet version with no individual score below 20. [Western's TOEFL ID is 0984].
The International English Language Testing Service (IELTS Academic). An overall of score of 6.5 with no individual score lower than 6*. (For the Field of School Applied Child Psychology, an IELTS average score of 7.0, with a minimum score of 6.5 on each scale, and a Skype interview, will be required.)
The Canadian Academic English Language Assessment (CAEL Assessment). Minimum acceptable score is 60.
Application Deadline
More information about the application process and deadlines can be found on our How to Apply page. Applicants are encouraged to submit early.
Fields of Research
Applied Linguistics
Counselling Psychology
Critical Policy, Equity and Leadership Studies
Curriculum Studies
School and Applied Child Psychology