Foods and Nutrition MScFN
Foods and Nutrition
Master of Science in Foods and Nutrition (MScFN)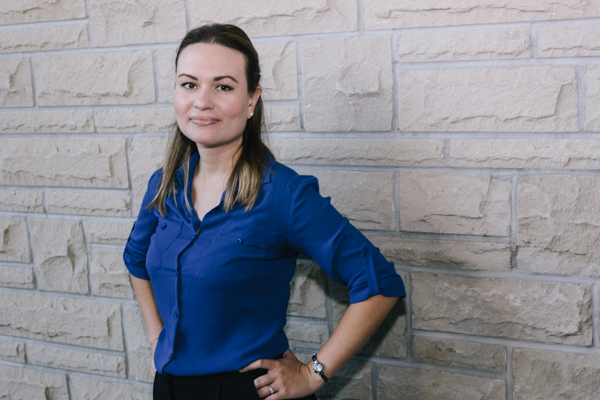 "I came to Western for my graduate degree because of the reputation of the school, my connection to Brescia from my undergraduate degree, and the top-notch professors that teach at Western."
Supervisor: Dr. Colleen O'Connor
What is it about your grad program that enables you to thrive and be successful?
The professors are invested in seeing us succeed in our careers, therefore we all feel the enormous support behind us. My advisor has always provided me with incredible support and is willing to share her own personal experiences and knowledge of when she went through grad school and she had to juggle work, life and school. The professors are relatable and very resourceful. I feel my voice is heard and respected as a student at Western.
Where's your favourite place on campus?
I really enjoy studying at the Beryl Ivey Library on the Brescia campus. At exam time it is a very quiet space to read and study.
Describe your research.
My research involves assessing the risk for malnutrition in individuals who have suffered an acute stroke and are admitted to the hospital. Currently, there is no validated malnutrition screening tool within the acute stroke population and I am interested in assessing the effectiveness of a particular malnutrition screening tool with this particular population group.
Where is "home" for you?
I was born in Queretaro, Mexico, but I have lived in London, Ontario since the age of 12.
What idea, suggestion, or comment would you like to share with the Western graduate community?
I really appreciate the effort that the Western graduate community puts into communicating events and opportunities for furthering our careers.
Program Websites
Program Contact
Stephanie Turnbull
(
fnsgrad@uwo.ca
)
Graduate Program Coordinator
School of Food and Nutritional Sciences
Western University
Brescia University College
1285 Western Road
Ursuline Hall Rm 110
London, Ontario N6G 1H2
t.
519-432-8353 ext. 28047
f.
519-858-5168
Brescia University College at Western University offers two streams in the MScFN program: a project-based (practicum) curriculum option and a thesis-based curriculum option. Both groups will participate in graduate-level university courses and enhance their leadership skills. Students will also expand their research competence through a major research project or completion of a thesis.

Project-based (Practicum) - Students will complete a full-time, year-long, PDEP accredited dietetic practicum which qualifies graduates to write the Canadian Dietetic Registration Examination to practice as Registered Dietitians (RDs) in Canada. Students participate in advanced course work, and work with a Faculty Supervisor to complete a major research project.

Thesis-based – Provides graduates with a Master of Science degree and the opportunity to strengthen research skills through advanced course work and Thesis development. Research will progress under the guidance of a Faculty Research Supervisor, who will support the student in her/his learning. The MScFN Thesis stream does not train students to become Registered Dietitians in Canada.
Program Length
5 Terms (Project-based)
6 Terms (Thesis-based)
Program Design
Full-time study
Project-based or Thesis-based
Funding Information
Applicants are encouraged to apply for the following scholarships (if eligible):
Admission Requirements
Project-based (Practicum)
Honours BSc in Foods and Nutrition from a Canadian undergraduate program accredited by Partnership for Dietetic Education and Practice. For a complete list of accredited undergraduate Foods and Nutrition programs, please see the Partnership for Dietetic Education and Practice website. Must have graduated within the last three years.
Undergraduate courses in research methodology and statistics.
Minimum undergraduate GPA of 78%.
Relevant volunteer or work experience.
A driver's license and access to a vehicle for the practicum portion of the program.
IMPORTANT: Before applying to this program, all potential applicants should review details about the admission requirements and details for the three-step application process which are outlined on the MScFN project-based (practicum) program website at https://www.brescia.uwo.ca/graduate/mscfn_internship/future_students/index.php
Thesis-based
Honours BSc in Foods and Nutrition (or an equivalent four-year honours degree).
Undergraduate courses in research methodology and statistics.
Minimum undergraduate GPA of 78%.
Relevant work or volunteer experience.
IMPORTANT: All potential applicants should review the admission requirements and details for the application process which are outlined on the MScFN thesis-based program website at https://www.brescia.uwo.ca/graduate/mscfn_thesis/future_students/index.php
Additional Requirements
Thesis-based
Applicants must meet selection criteria which evaluates their readiness for advanced practice, ability to plan and conduct research, and potential for leadership in their profession. Experience and performance in professional practice is considered an asset.
Depending on the courses taken in their bachelor's degree, international applicants may need to complete some undergraduate nutrition courses at Brescia prior to becoming eligible to apply to the MScFN Thesis Stream.
English Language Proficiency
Applicants whose first language is not English must furnish evidence of their proficiency in the use of the English language:
Application Deadline
Project-based (Practicum) - CLOSED Applications to this curriculum option of the MScFN program are no longer being accepted. Notification of acceptance will be sent by email to successful candidates starting in March 2022.
Thesis-based - November 15, 2021 to January 31, 2022. Applications for the thesis-based curriculum option which are received beyond the January 31 deadline will continue to be accepted and reviewed; however, applicants may have less chance for success of program admission and funding opportunities.