Hispanic Studies
Doctor of Philosophy (PhD)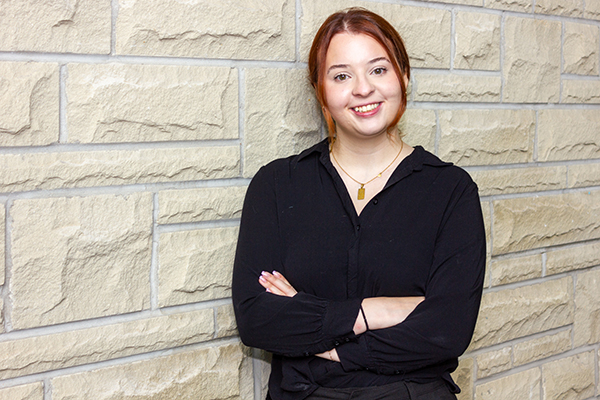 "The program is small, so I have excellent relationships with my supervisor and professors. I know they all want me to succeed and can work closely with me to ensure this."
Where's your favorite place on campus to work?
I really enjoy working in the office the department provides to their graduate students since it's always quiet and I can get a lot of work done.
Describe your research.
My research analyzes visual representations (i.e., photographs, illustrations, political cartoons, advertisements, etc.) of the 1918 Influenza, dubbed the "Spanish Flu," in Canadian newspapers such as L'Acadien, La Presse, Ottawa Sun, Toronto Star, Vancouver Daily Sun, and Winnipeg Tribute. Using the 1918 Influenza as a case study, I seek to inform my readers on how problematic it is to associate an infectious disease with a foreign nation or a specific group of people. This is particularly relevant with the current COVID-19 pandemic and going forward as leading epidemiologists globally expect us to experience more novel infectious diseases in the future.
Do you serve on any Department, Faculty, or University committees?
I'm the PhD representative on the Hispanic Studies Graduate Committee. I'm also the department councillor for SOGS and a member of its Academic Committee.
What one thing would you like people to know about you?
I have a wiener dog named Rafael.
What's the best advice you could give to someone considering applying to your graduate program?
My best advice is to reach out to students in the program and professors to learn more about it.
Program Websites
Program Contact
Sylvia Kontra
(
skontra@uwo.ca
)
Graduate Affairs Assistant
Department of Modern Languages and Literatures
Western University
University College 2210
London, Ontario N6A 3K7
t.
519-661-2111 ext. 85846
f.
519-661-4093
Welcome to the Graduate Program in Hispanic Studies at Western!

A degree in Hispanic Studies delivers a world-class, interdisciplinary academic experience. But it's more than just a program - it's a rich experience filled with language, culture, extra-curricular activities, research, teaching, and community engagement so your graduate wti hthe skills you need to find a rewarding career in a multicultural world.

This program distinguishes itself from others because of our innovative approaches to Hispanic Studies. In our Literature and Culture programs we focus on connections in time, geography and medium. Our strengths lie in Transatlantic studies, Visual arts, text and music, Digital Humanities and their place in Hispanic Culture. The Linguistic stream focuses on an experimental approach to language acquisition, language loss, heritage speakers and language change due to contact.

Among other opportunities offered in our programs, students may be able to participate in the ground breaking research that takes place in the CulturePlex, the Digital Humanities lab which is unique in Canada.


The Own Your Future doctoral professional development program will help you become a career-ready graduate with the skills necessary to excel in your studies and achieve your future goals. By participating in the program, you will assess your own strengths and opportunities for growth, choose what skills you want to enhance during your time at Western, and learn how to articulate the skills you gained in your degree to optimize your future career opportunities. To learn more, visit www.uwo.ca/ownyourfuture.
Program Length
Program Design
Full-time study
Thesis-based
Funding Information
Applicants are encouraged to apply for the following scholarships (if eligible):
Vanier Canada Graduate Scholarships (Vanier CGS)

Tuition and Fees

Tuition and fee schedules (per term) are posted on the Office of the Registrar's website at http://www.registrar.uwo.ca/student_finances/fees_refunds/fee_schedules.html

Admission Requirements

A minimum of 80% overall average in the Master's degree.
Sample of previous academic work (written work ie: previous essay).
CV
Statement of Interest (Letter of Intent). This statement is typically between 300-1000 words. This letter should address: your specific area of academic interest (the research topic you want to work on and with whom), how your past education and other experiences have prepared you to be successful in our graduate program, what you hope to achieve in our graduate program, and why our program is the best place for you to pursue your interests.

Additional Requirements

Students are expected to gain reading knowledge in a language other than Spanish and English before graduation.

English Language Proficiency

*Exit Requirement: Applicants whose first language is not English must furnish evidence of their proficiency in the use of the English language:

Application Deadline

February 1 - Acceptance notification at the beginning of April