Kinesiology
Doctor of Philosophy (PhD)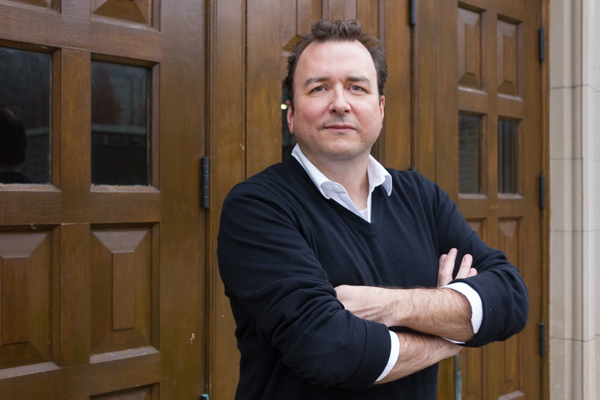 "Do not hesitate to pursue an advanced degree. It is not impossible. In fact, it might be one of the most rewarding pursuits of your life."
Supervisor: Robert Barney
Why did you come to Western for your graduate degree?
I came to Western for the opportunity to work with Dr. Robert Barney, one of the planet's foremost sport historians. He did not disappoint.
Where is "home" for you?
Born in Mattoon, Illinois, lived most of my professional life in the U.S. South, including more than a decade in Athens, Georgia, before moving to London, Ontario, in 2009.
Describe your research.
My research involves, an exploration of Canadian-born, Boston-bred boxer George Dixon, the world's first black boxing champion, and his life, times and interactions within Jim Crow America.
Where's your favourite place on campus.
The International Centre for Olympic Studies.
What's the best advice you could give to someone considering applying to your graduate program?
Embrace relationships early on. For me, the graduate experience was as much about my relationships with my advisor, professors and fellow students within the program as it was about the course offerings. The value I pulled from the people I interacted with on a daily basis has been – and will continue to be – far more valuable than anything I could have learned in a classroom. Embrace these relationships early on – the time simply flies by.
What's your favourite book?
Love in the Ruins
by Walker Percy.
What is it about your grad program that enables you to thrive and be successful?
The fact that I can go 'all in' on a subject I enjoy surrounded by others who share that same passion. Ours is a small community. But what we lack in size, we make up for in a desire to continually move the discipline forward.
Program Websites
Program Contact
Laurie Bodin
(
lmbodin@uwo.ca
)
Graduate Program Assistant
School of Kinesiology
Western University
3M Centre Room 2230
London, Ontario N6A 3K7
t.
519-661-2111 ext. 83075
Our doctoral degree from the School of Kinesiology often leads to an academic position of teaching and/or research at another university or college. It is useful for specialization in private research fields, publishing, management or governmental institutions related to the graduate's field.


The Own Your Future doctoral professional development program will help you become a career-ready graduate with the skills necessary to excel in your studies and achieve your future goals. By participating in the program, you will assess your own strengths and opportunities for growth, choose what skills you want to enhance during your time at Western, and learn how to articulate the skills you gained in your degree to optimize your future career opportunities. To learn more, visit www.uwo.ca/ownyourfuture.
Program Length
Program Design
Full-time study
Thesis-based
Funding Information
Applicants are encouraged to apply for the following scholarships (if eligible):
Tuition and Fees
Tuition and fee schedules (per term) are posted on the Office of the Registrar's website at http://www.registrar.uwo.ca/student_finances/fees_refunds/fee_schedules.html
Admission Requirements
A completed Master's degree with distinction in Physical Education/Kinesiology (or its equivalent) from an accredited university
English Language Proficiency
Applicants whose first language is not English must furnish evidence of their proficiency in the use of the English language:
Application Deadline
Please contact the Kinesiology Graduate Program for details about the application process and timelines, including specific information about scholarships and International applications.
Acceptance notifications are processed on a rolling basis throughout the year.
Fields of Research
Integrative Biosciences in Kinesiology
Management and Leadership in Kinesiology
Psychological Basis of Kinesiology
Sociocultural Studies of Kinesiology