Management
Master of Science (MSc)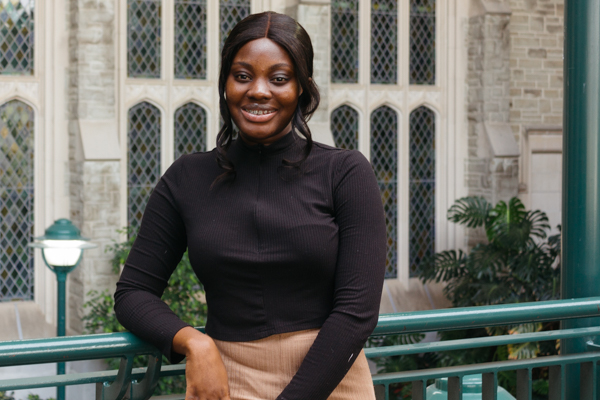 "The fact that we are being taught and trained to use and commercialize businesses with emerging technologies is today's order for solving many business problems."
Why did you come to Western for your graduate degree?
I chose Western and my program because it stood out to me as I have always wanted a career in the tech business field. The entire application process was smooth and the website was extremely user-friendly. Responses from the graduate office were also really quick. Additionally, the courses were listed on the website so it gave me an idea of what I was in for and I was also able to make an informed decision.
Where's your favourite place on campus to work?
My favourite place to study on campus is the breakout rooms at Ivey. Aside from them being very quiet and conducive to getting work done, the study desks are really comfortable, and there are screens and whiteboards to aid studies.
What advice could you give someone considering applying to your graduate program?
The program is very useful for a successful career. I believe it tackles today's major problems as it provides you with many opportunities to learn and acquire useful tech skills and knowledge. It also exposes you to the real business world through the case-learning method.
Program Websites
Program Contact
MSc in Management Program Services/General Inquiries
(
msc@ivey.ca
)
Ivey Business School
Western University
1255 Western Road, 2nd Floor
London, Ontario N6G 0N1
t.
519-661-2010
f.
519-850-2521
Ivey's 16-month MSc in Management program is specifically designed for high-achieving university graduates who are poised to leverage their education and experiences to become global business leaders. The MSc in Management is a degree program that offers three fields of research centered around international management (with or without CEMS MIM), business analytics and digital management. These fields are based on in-class case discussions and real world experiences, including guaranteed placements in both Canadian (Business Analytics and Digital Management) and international (International Business field) firms.
Ivey is the exclusive Canadian partner in the internationally renowned CEMS alliance. This partnership gives Ivey MSc in Management students the opportunity to participate in the Master of International Management (MIM) program with students from other leading schools in the alliance including the London School of Economics, HEC Paris, National University of Singapore, ESADE (Spain), Cornell University (USA) and the University of Sydney (Australia). Students register as Ivey MSc in Management International Business students and pursue the CEMS MIM designation concurrently.
Program Length
Program Design
Full-time study
Course-based
Tuition and Fees
Tuition and fee schedules (per term) are posted on the Office of the Registrar's website at http://www.registrar.uwo.ca/student_finances/fees_refunds/fee_schedules.html
Admission Requirements
Undergraduate degree received within the past two years.
Competitive B (77%-79% Western University equivalent) average in your final two years of undergraduate study.
Possess one or more of the following business pre-requisite courses - details here.
GMAT* or GRE** score (required) - expected score is 600 or higher.
Two reference letters (academic or professional).
Professional resumé.
High level of fluency in a minimum of two languages (for MSc-CEMS applicants ONLY).
Quantitative courses in calculus, linear algebra, statistics and computer science is strongly recommended (for MSc-Business Analytics ONLY).
*Graduates of a four-year undergraduate degree in business (or related discipline) from a Canadian University who achieved a 78% average or higher over their final two years of study may be eligible to have the GMAT admission requirement waived. These waivers are awarded during the admissions process.
**We accept both the GMAT and the GRE score, but will convert your GRE score to a GMAT score. To see an approximate score, please visit the GRE Comparison Tool.
Additional Requirements
English Language Proficiency
Application Deadline
Please review the admissions deadline chart and requirements here: https://www.ivey.uwo.ca/msc/admission/apply/
Fields of Research
Business Analytics
Digital Management
International Business