Microbiology and Immunology MSc
Microbiology and Immunology
Master of Science (MSc)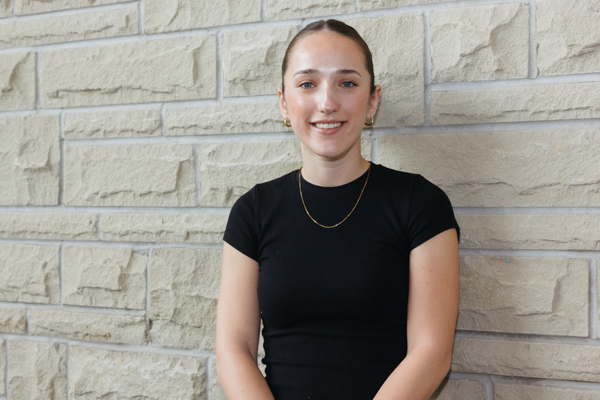 "My graduate program has opened a plethora of doors for me and equipped me with the skills and experiences necessary to be successful within the research world."
Why did you come to Western for your graduate degree?
I initially considered Western as I am originally from Grand Bend, and joining the Western community would provide me with the opportunity to move back closer to my family. Also, all three of my sisters attended Western and thoroughly enjoyed their experiences, so I was confident I would too. What also made this a very easy decision, after researching the program, was learning about the unique research experience I could gain here. Western indulges in such a wide variety of research, and has access to amazing resources not available at other institutions.
Describe your research.
Currently, bladder cancer is the most expensive malignancy to treat over a patient's lifetime meaning there is an imperative need to investigate novel therapies. Our lab has previously shown the significant role hydrogen sulfide plays in promoting carcinogenesis. I have been afforded the task of developing a project, which is entirely new to our lab and to Western, to investigating a novel therapeutic for non-muscle invasive bladder cancer through the inhibition of hydrogen sulfide production.
Where's your favourite place on campus to work?
My favourite place on campus to study is Weldon library. It provides a great view of the campus as well as different study areas depending on what you are looking for – whether that be to study with friends or a silent area to focus.
What's the best advice you could give to someone considering applying to your graduate program?
The best advice I can give someone considering applying to my graduate program is to interview with as many principal investigators as possible. There is such a wide range of research that is being conducted just within this department, from virology to cancer biology, and new projects are always being developed. Your dream project may lie within a lab that you haven't considered.
Program Websites
Program Contact
mnigradstudies@uwo.ca
Department of Microbiology and Immunology
Western University
Dental Sciences Rm 3014
London, Ontario N6A 5C1
f.
519-661-3499
Western's Graduate Program in Microbiology and Immunology offers research-intensive, thesis-based graduate training at the Master's level. We possess world class facilities and a motivating training environment, with high profile research programs overseen by internationally distinguished faculty members. The Graduate Program of the Department of Microbiology and Immunology revolves around two major fields of scientific endeavour: i) The molecular and cellular biology of microorganisms, and ii) The molecular and cellular biology of the immune system. These fields involve studies on bacteria, virus, parasites, cancer cells, and immune cells with an emphasis on molecular biology, biochemistry, and pathogenesis. Students can take the one-year program or the two-year program. The two-year program is intended for students who are interested in a research career or who are interested in acquiring research skills.
Program Length
3 Terms (Project-based)
6 Terms (Thesis-based)
Program Design
Full-time study
Project-based or thesis-based
Funding Information
Applicants are encouraged to apply for the following scholarships (if eligible):
Tuition and Fees
Tuition and fee schedules (per term) are posted on the Office of the Registrar's website at http://www.registrar.uwo.ca/student_finances/fees_refunds/fee_schedules.html
Admission Requirements
Minimum high B average from the undergraduate degree.
For one-year program: Must be a fourth-year Honours Bachelor of Medical Science Student at Western University with an honors research thesis component.
For two-year program: Honours Bachelor degree, or equivalent, in Microbiology, Immunology or some other biological sciences program. Holders of MD, DDS, or DVM degrees are also eligible to apply.
English Language Proficiency
Applicants whose first language is not English must furnish evidence of their proficiency in the use of the English language:
Application Deadline
One-Year Program
Two-Year Program
February 1 - Fall Term
June 15 (pending spots remaining) - Fall Term
March 31 - Summer Term
November 1 - Winter Term
We strongly encourage submission of applications by February 1 for summer term or fall term admission for both domestic and international applicants. This is to ensure eligibility for all entrance awards and scholarships. Applications received by February 1 will be considered for a Dr. FW Luney Graduate Entrance Scholarship in Microbiology & Immunology worth up to $5,000. The graduate program in Microbiology & Immunology will continue to consider applications submitted between February 1 and July 31 while positions in host laboratories are open. Incomplete applications will not be evaluated.
Fields of Research
Cellular and Molecular Biology of Microorganisms
Cellular and molecular Biology of the Immune System