Mechanical and Materials Engineering MEng
Mechanical and Materials Engineering
Master of Engineering (MEng)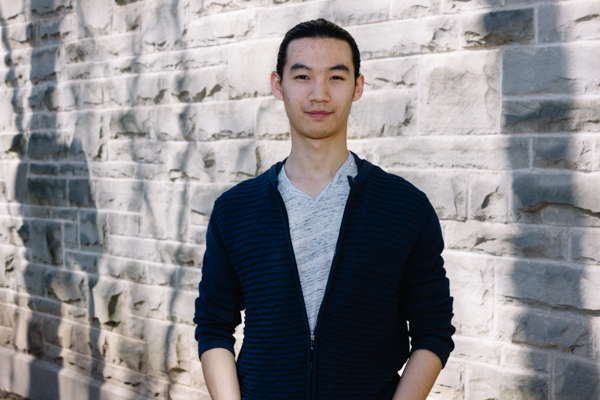 Where is "home" for you?
I'm from China. I was born there and grew up there, and lived there for more than 20 years.
What is it about your grad program that enables you to thrive and be successful?
I think the most important thing is that studying here broadens my horizons not only in my major area of study, but also in other engineering fields and non-engineering fields. I've learned about project management, learned about other software, how to communicate with people from other countries, and how to work better together. The learning and living experiences abroad here gives me a better understanding of the world outside my home country.
What's the best advice you could give to someone considering applying to your graduate program?
For international students, try your best to get a high GPA, participate in one or two clubs, and learn English as early as possible.
What idea would you like to share with the Western graduate community?
Try to use the resources that Western offers to us as much as possible, make friends from other countries, and have fun with them! And don't forget to go to the gym!
What are you most passionate about?
I'm most passionate about travel, especially backpacking. I like to experience different cultures around the world. I've traveled to several countries in Asia, Europe, and North America. My next destination is South America.
What one thing would you like people to know about you?
I'm a person that has a strong sense of responsibility.
Program Websites
Program Contact
Joanna Blom
(
jblom@uwo.ca
)
Graduate Coordinator
Department of Mechanical and Materials Engineering
Western University
Spencer Engineering Building Rm 3002
London, Ontario N6A 5B9
t.
519-850-2939
f.
519-661-3020
Our MEng is a course-based degree that is structured to assist qualified engineers in the advancement of their professional careers and to provide students with the skills necessary to address key technological challenges. We offer seven technical streams within our MEng program to allow you to receive specialized training in the specific areas of Mechanical Engineering that interest you.
Program Length
3 terms (Full-time study)
Program Design
Full-time study or part-time study
Course-based or project-based
Funding Information
Tuition and Fees
Tuition and fee schedules (per term) are posted on the Office of the Registrar's website at http://www.registrar.uwo.ca/student_finances/fees_refunds/fee_schedules.html
Admission Requirements
Four-year Bachelor of Engineering degree (or equivalent) from an accredited university; Students with a similar degree from another discipline may be admitted on a case by case basis, with approval from the Associate Chair (Graduate Professional).
Minimum 70% (North American equivalent) from the last 2 years of full-time study, or the last 20 courses.
Additional Requirements
Other factors such as publication record and/or industrial experience may also be beneficial.
English Language Proficiency
Applicants whose first language is not English must furnish evidence of their proficiency in the use of the English language:
Application Deadline
Domestic Applicants:
July 1 - Fall Term
November 1 - Winter Term
March 1 - Summer Term
International Applicants:
March 1 - Fall Term
June 1 - Winter Term
October 1 - Summer Term
Applications are processed on a rolling basis. We do not process an application until it is complete and all required documents are received. Therefore we cannot guarantee consideration for the term requested if documentation is received after the deadline date. In such a case, the application will be considered for the next available term.
Fields of Research
Automation Technologies and Systems
Composite Materials
Heating, Ventilation and Air Conditioning (HVAC)
Materials and Solid Mechanics
Mechanical Engineering
Thermofluids