Music
Doctor of Musical Arts (DMA)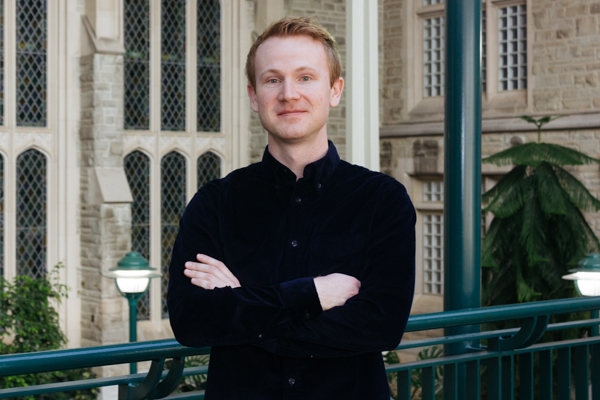 "I think the best part of the program at Western is the close interaction between students and faculty. It really feels like a community where we are all colleagues, and everyone supports each other."
Why did you come to Western for your graduate degree?
The main reason I chose to come to Western was that I wanted to study piano with Stéphan Sylvestre. He is one of the most accomplished pianists in Canada, and I had the opportunity to work with him once before coming to Western, and was immediately drawn toward his teaching style. I was also interested in Western because I really enjoy working with singers, and Western has a massive voice and opera program.
What's your favourite music?
I love everything, but some favourites outside of classical music are Big Wreck, Radiohead, and Protest the Hero. My favourite composers are Rachmaninoff, Prokofiev, and Chopin.
Describe your research.
My research focuses on the music of Russian composer Sergei Prokofiev. Prokofiev spent his mature years living in the Soviet Union, and it was there that he made piano transcriptions of some of his major ballets. My research focuses on these piano transcriptions, how they are different from their original ballet counterparts, and the ways in which Prokofiev's circumstances working in the Soviet Union shaped these works.
Where's your favourite place on campus to work?
The practice rooms in the basement of the music building because the pianos are great.
What's the best advice you could give to someone considering applying to your graduate program?
If you want to thrive as a music professional today, you need to be not only an excellent performer, but also a well-rounded communicator, researcher, and creative thinker. The DMA program at Western is the perfect setting for refining these skills.
Program Websites
Program Contact
Audrey Yardley-Jones
(
ayardley@uwo.ca
)
Graduate Program Assistant
Don Wright Faculty of Music
Western University
Talbot College, Room 216
London, Ontario N6A 3K7
t.
519-661-2111 ext. 85354
The DMA in Performance is designed for highly proficient artists in musical performance who wish to strengthen their background with advanced study of literature and pedagogy, and also wish to pursue independent research.


The Own Your Future doctoral professional development program will help you become a career-ready graduate with the skills necessary to excel in your studies and achieve your future goals. By participating in the program, you will assess your own strengths and opportunities for growth, choose what skills you want to enhance during your time at Western, and learn how to articulate the skills you gained in your degree to optimize your future career opportunities. To learn more, visit www.uwo.ca/ownyourfuture.
Program Length
Program Design
Full-time study
Project-based or thesis-based
Tuition and Fees
Tuition and fee schedules (per term) are posted on the Office of the Registrar's website at http://www.registrar.uwo.ca/student_finances/fees_refunds/fee_schedules.html
Admission Requirements
A strong academic record in a Master's degree in performance, or its equivalent.
A successful audition and interview.
Evidence of ability in research and writing.
English Language Proficiency
Applicants whose first language is not English must furnish evidence of their proficiency in the use of the English language:
Application Deadline
January 15 - Acceptance notification in early March
Applications received after the deadline are contingent on space availability and funding.
Fields of Research
Conducting
Orchestral instruments
Piano (collaborative)
Piano (solo)
Voice