Music
Master of Arts (MA)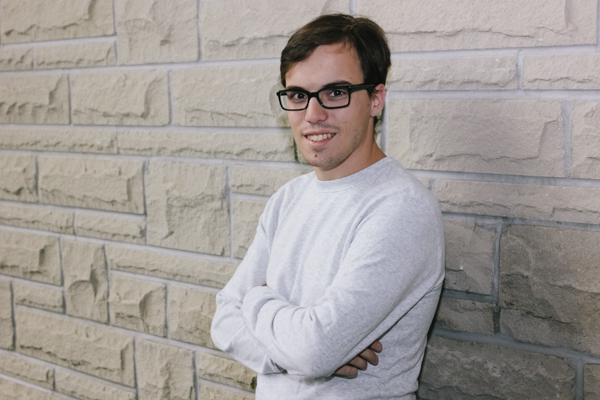 "Although we're one of the smallest programs at Western, there are a lot of talented people doing very impressive things here."
Why did you come to Western for your graduate degree?
I was very happy with my undergraduate experience at Western, including the diverse opportunities offered and the incredibly knowledgeable faculty that the department employs. As such, I wasn't ready to leave Western, and I'm very excited to be able to continue my studies in the Music Theory program!
Where's your favourite place on campus?
I have two favourite places on campus to work. The first is my TA office, because it's quiet and allows me a private place to focus on my work. The second is the Music Library, because of its knowledgeable research staff and the incredible collection tailored to my program.
Do you belong to any university or community groups?
I am fairly active in the university's musical theatre community, serving as music director for various productions. Also, I am investigating joining a faculty-based ensemble, as I was a member of these ensembles throughout my undergraduate degree.
Have you worked as a TA or RA? If so, how did this benefit your academic career?
I am currently working as a marking TA. While this is a new and exciting venture for me, I have already gained insight into the creation of theory assignments, and using online class management systems like OWL.
What is your "dream" career?
Being involved in academia in one way or another, particularly as a professor, would be an ideal career path for me, but I'm also interested in careers relating to music theory pedagogy.
Program Websites
Program Contact
Audrey Yardley-Jones
(
ayardley@uwo.ca
)
Graduate Program Assistant
Don Wright Faculty of Music
Western University
Talbot College, Room 216
London, Ontario N6A 3K7
t.
519-661-2111 ext. 85354
The Don Wright Faculty of Music is the first in Canada to offer a one-year (12-month/three term) MA in Music Theory or Musicology. Our redesigned MA degree programs in both Music Theory and Musicology will continue to provide high-quality courses in a shortened time frame.
This exciting redesign offers students a combination of course-based and project-based learning in a more compact, intensive experience. Each year available courses will reflect the strengths and diverse research interests of our music theory and musicology faculty.
Program Length
Program Design
Full-time study
Project-based
Funding Information
Applicants are encouraged to apply for the following scholarships (if eligible):
Tuition and Fees
Tuition and fee schedules (per term) are posted on the Office of the Registrar's website at http://www.registrar.uwo.ca/student_finances/fees_refunds/fee_schedules.html
Admission Requirements
Detailed admission requirements by program:
English Language Proficiency
Applicants whose first language is not English must furnish evidence of their proficiency in the use of the English language:
Application Deadline
January 15 - Acceptance notification in early March.
Applications received after the deadline are contingent on space availability and funding.