Engineering in Medicine Collaborative Specialization
Engineering in Medicine
Collaborative Specialization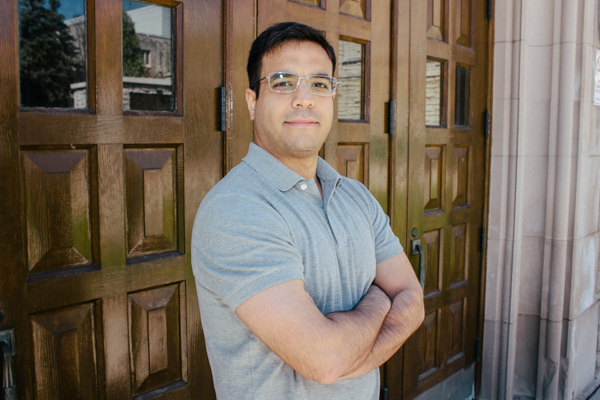 "I chose Western University because it is one of the most well-regarded universities in Canada."
Describe your research.
The purpose of my research is to compare the stability of a total hip implant insert secured with either a bi-cortical or uni-cortical bone screw.
Where is "home" for you?
I come from the capital of Iran – Tehran, but I believe that home is where you can progress in your life and are satisfied with it.
Where's your favourite place on campus?
My favourite place to study is Weldon Library because it has private study room for graduate students.
Program Websites
Program Contact
Dr. George Knopf
(
gkknopf@uwo.ca
)
Director
Engineering in Medicine
Western University
Spencer Engineering Building, 3087
London, Ontario N6A 5C1
t.
519.611.2111 ext. 88452
Participating Degrees
Engineering in Medicine is an interdisciplinary, non-thesis Master of Engineering (MEng) collaborative specialization offered at the Faculty of Engineering at The University of Western Ontario. Combining expertise from our departments of Chemical & Biochemical Engineering (CBE), Electrical & Computer Engineering (ECE) and Mechanical & Materials Engineering (MME), the Engineering in Medicine MEng specialization offers qualified engineering graduates (or equivalent) the opportunity to better understand the role of engineers in modern medicine. Students will explore innovative technologies that impact medical advancements and recognize opportunities for product development and commercialization. Learn more about specific courses.
Program Length
Program Design
Full-time or part-time study
Project-based
Funding Information
M. Eng student are expected to be self-funded.
Tuition and Fees
Tuition and fee schedules (per term) are posted on the Office of the Registrar's website at http://www.registrar.uwo.ca/student_finances/fees_refunds/fee_schedules.html
Admission Requirements
Interested applicants should seek admission to one of the participating graduate programs in the Faculty of Engineering (CBE, ECE or MME) based on their prior academic background.
Requirements include:
Degree: Bachelor's degree in Engineering, or an equivalent degree from an accredited University. Students with a similar degree from another scientific discipline may be admitted, with the approval of the Associate Chair - Graduate.
Marks: Minimum of 70% (B) grade average (North American), computed based on the last two years of a bachelor's honours degree marks, or on the previous graduate marks.