Migration and Ethnic Relations Collaborative Specialization
Migration and Ethnic Relations
Collaborative Specialization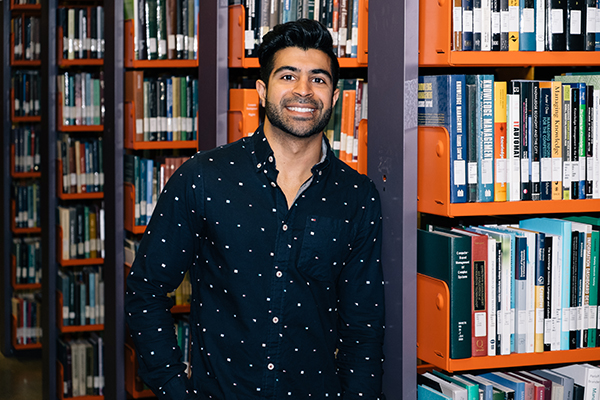 "The versatility offered by the Migration and Ethnic Relations specialization is by far the most useful element of my graduate degree. The exposure to faculty members across numerous disciplines who all engage with migration or ethnic relations provides an innovative and unique opportunity for graduate students to understand the multidisciplinary and multifaceted aspects of migration."
Supervisor: Dr. Stephanie Bangarth
What's the best advice you could give to someone considering applying to your graduate program?
Take the time to make sure that you are truly prepared to embark on this journey. If you have the passion, drive, and determination, then you will most certainly thrive in graduate school. However, if you are unsure or not fully committed to your thesis project, it will be substantially more difficult to excel in this program.
What is it about your grad program that enables you to thrive and be successful?
The sense of community amongst members of the MER specialization, both graduate students and faculty, has created a strong foundation for my graduate career. The colloquium series of talks, from distinguished scholars and others across the country, also provide valuable networking opportunities for graduate students to meet other scholars, researchers, community volunteers, government officials, advocates, and non for profit workers.
Where did you complete your undergraduate degree?
Queen's University
Why did you come to Western for your graduate degree?
The specialization in Migration and Ethnic Relations, along with my supervisor Dr. Stephanie Bangarth.
Where's your favourite place on campus to work/study/research? Why?
Weldon Library in one of the graduate student offices. Ever since applying for a study space in Weldon, I have spent that majority of my time working in those rooms. They are isolated and have beautiful views of campus. The rooms are extremely convenient as you have instance access to all of the library's resources, in addition to being able to quickly get to Quotes café, Tim Hortons, Starbucks, and the Spoke for much needed caffeine.
Have you worked as a teaching assistant or research assistant?
I have worked both as a TA within the history department and as an RA for Dr. Turkel in Digital History. Both experiences enhanced my academic career by sharpening my presentation skills and helping me to become more comfortable in front of an audience. Running tutorials has helped me to understand what the key concepts are within various readings and how to get students to articulate those within our tutorials.
What is your "dream" career?
My dream career involves research, design, and implementation at an international organization such as the United Nations, OXFAM, or Amnesty International as part of their team dealing with refugees and immigrants.
What idea, suggestion, or comment would you like to share with the Western graduate community?
Prioritize your goals and do everything you can in your power to achieve them. There are a lot of wonderful opportunities at Western University to get involved. There are hundreds of conferences, workshops, talks, volunteer opportunities, etc., so choose those that are of interest to you and make the most of them. Don't overburden yourself by going to every single talk, and every workshop. Choose strategically so that you can make the most of that aspect of your life.
What are you most passionate about?
Creating inclusive environments for refugees and immigrants in Canada. I've always been passionate about the lives of immigrants and refugees especially here in Canada. As my mother came to this country in 1972 as a refugee, I've always been inspired by her resiliency.
What one thing would you like people to know about you?
I'm unbelievable grateful to the world around me for opportunities I have been given in this life. I will undoubtedly spend the rest of my life working trying to improve the world around us in any way possible.
Program Websites
Program Contact
Dr. Michael Haan
(
michael.haan@uwo.ca
)
Director
Collaborative Specialization in Migration and Ethnic Relations
Western University
Social Science Centre Rm 5207
London, Ontario N6A 5C2
t.
519-661-2111 ext. 85110
Participating Degrees
What is a Collaborative Specialization?
A Collaborative Specialization is an intra-university graduate field of study that provides an additional multidisciplinary experience for students enrolled in and completing the degree requirements for one of a number of approved Master's and/or PhD programs. Students meet the admission requirements of, and register in, the participating (or "home") program but complete, in addition to the degree requirements of that program, the additional requirements specified by the Collaborative Specialization. The degree conferred is that of the home program, and the completion of the Collaborative Specialization is indicated by a transcript notation indicating the additional specialization that has been attained (e.g., PhD in History with specialization in Migration and Ethnic Relations).
The Collaborative Specialization in Migration and Ethnic Relations (MER) at Western brings together graduate students and faculty to study questions of migration, ethnic relations, cultural diversity, conflict, acculturation and the integration of migrants, from the perspective of various social science disciplines.
Program Length
Program Design
Full-time study
Thesis or project-based
Funding Information
The Collaborative Specialization does not provide additional funding beyond what the student receives through their home department.
Funding for data collection and for travel to conferences to present relevant research is available through home departments, the Faculty of Social Science Graduate Thesis Research Award program, and the University Graduate Thesis Research Award program.
Tuition and Fees
Tuition and fee schedules (per term) are posted on the Office of the Registrar's website at http://www.registrar.uwo.ca/student_finances/fees_refunds/fee_schedules.html
Admission Requirements
Students who wish to enroll in this collaborative specialization must first apply to a participating department. Students who have been admitted to the graduate program of a participating department are then eligible for admission to the collaborative specialization.
Please visit
Migration and Ethnic Relations
for more information.
Application Deadline
Continuing - Please contact the program for more information