Music Cognition Collaborative Specialization
Music Cognition
Collaborative Specialization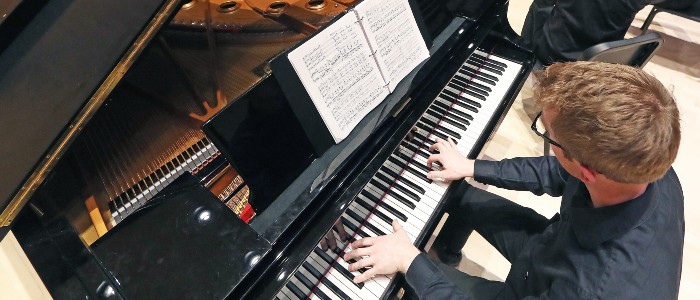 Program Websites
Program Contact
Jonathan De Souza
(
jdesou22@uwo.ca
)
Director
Don Wright Faculty of Music
Western University
Talbot College Rm 218
London, Ontario N6A 5C1
t.
519-661-2111 ext. 85198
Participating Degrees
The Collaborative Graduate Specialization in Music Cognition at Western University offers exciting opportunities for interdisciplinary coursework, lab-based research training, and rigorous musical engagement. This specialization can be added to graduate degrees in Music, Neuroscience, Psychology, and Health and Rehabilitation Sciences (Hearing Science and Speech-Language Science fields). Students are mentored by faculty members from the Don Wright Faculty of Music, the Brain and Mind Institute, and the National Centre for Audiology.
Program Length
Program Design
Full-Time Study
Thesis, Course-Based, or Project-Based
Funding Information
The Collaborative Specialization does not provide additional funding beyond what the student receives through their home department.
Tuition and Fees
Tuition and fee schedules (per term) are posted on the Office of the Registrar's website at http://www.registrar.uwo.ca/student_finances/fees_refunds/fee_schedules.html
Admission Requirements
Current enrolment in a participating program at Western University.
Permission of the Director to participate in the Collaborative Specialization.
Additional Requirements
At least two courses from the program's course list, including Music 9739A/B: Cognitive Musicology.
Participation in monthly meetings of the Music Cognition Workshop.
Write and defend a project or thesis related to music cognition under the supervision of a graduate faculty member associated with the program.
English Language Proficiency
Please see the individual home program requirements.
Application Deadline
Ongoing—Please contact the Director for more information.